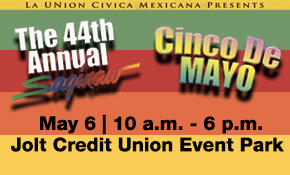 44th Cinco de Mayo Festival
Date May 6,2023 ,Saturday, 10:00 am - 6:00 pm

44th Cinco de Mayo Festival Presented By La Union Civica Mexicana

Saturday, May 6, 2023

Parade at 10:30 a.m.  |  Gates at 11:00 p.m.  |  Festival at 12:00 p.m.
Jolt Credit Union Event Park
EVENT TIMELINE
8 a.m. – Parade Line Up start time at Hoyt Park
10 a.m. – Parade Start
10 a.m. – Cinco de Mayo Festival Gates open at Jolt Credit Union Event Park
11:45 a.m. – Opening welcome
La Unión Cívica Mexicana is a vital civic organization with a long record of giving back to our community. The Cinco de Mayo celebration brings great pride to our area by allowing local Hispanics to express their pride culturally and showcase their contributions to a diverse Great Lakes Bay Region. This is our signature event, but throughout the year our annual Adelante Awards, Dia de los Muertos and Tamale Taste-off showcase us as a leading organziation in the greater community. Please support our Civica Kitchen as it continually supports our cultural events. 
Cinco de Mayo is always a day of pride for so many throughout the Great Lakes Bay Region. For many it's a day we've always expected in early May, and we've grown up with the celebration honoring Latino Contributions to our community.  Not every community is as blessed to have this event. That's what it is really, a blessing. And NO, we're not celebrating Mexico's Independence Day — We're celebrating who we are as a people, our heritage, our ancestors and how we are contributing to our community.
We invite everyone to celebrate with us! Cindo de Mayo is a staple event in Saginaw, just like the Bavarian Festival, The Greek Festival, Kwanzaa and even St. Patrick's Day Parade in Bay City. They are the diverse celebrations that help make our region so great!
​
In celebrating the 44th annual Cinco de Mayo, we need your help to make this year's parade memorable as we continue to build from the inactivity durign the Covid pandemic. We are encouraging our community to make festive floats with the theme of "Celebrating Our Roots -Celebrando Nuestras Raíces"  remembering families, ancestors and those who made us who we are today.
It is a testament to the pride of Mexican-American culture and their history that the Great Lakes Bay Region has kept this festival alive and strong. It is part of the fabric of the quilt that makes this region attractive to any settlers or visitor who embraces diversity in their lives.  Viva la Cinco de Mayo!
Special Performances By:

Stefani Montiel
Eddie Gonzalez
Groupo Dezeo
DJ Jesse Sanchez
Ballet Folklorico de Detroit
International Wrestlers
Inflatables and food vendors will also be on site.
Ticket Price: $5.00 cover at the gate. Children aged 9 and younger are FREE.

*Blankets & lawn chairs welcome at Jolt Credit Union Event Park.
*In cases of inclement weather, The Dow Event Center is the backup location for Jolt Credit Union Event Park events.