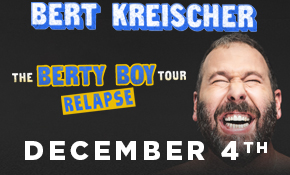 Bert Kreischer: The Berty Boy Tour Relapse

Bert Kreischer: The Berty Boy Tour Relapse
Sunday, December 4, 2022 at 7:00 p.m.

The Dow Event Center Theater
CLICK HERE FOR SECURITY, PROHIBITED ITEMS & ADDITIONAL EVENT INFO
CLICK HERE FOR SHOW EVENT NOTES
Bert Kreischer is an American stand-up comedian, actor, writer and host who performs to sold-out crowds across the country. His brand-new stand up special "Hey Big Boy", as well as "Secret Time" and "The Machine" are currently streaming globally on NETFLIX.  Bert recently debuted his new Netflix docu-series "The Cabin," which shot straight to the top 10 within 24 hours and was the most-watched unscripted series on the platform the week it premiered.
Bert Kreischer hosts Go-Big Show with celebrity judges Snoop Dogg, Rosario Dawson, Jennifer Nettles and Cody Rhodes. Described as having a "rare and incredible talent" (Interrobang), Bert has evolved from being named Rolling Stone's 1997 "Number One Partier in the Nation" to one of the top names in comedy. Between his four stand-up specials, his three podcasts: "Bertcast," "2 Bears 1 Cave," and "BillBert," his YouTube cooking show: "Something's Burning," his book Life of the Party: Stories of a Perpetual Man-Child (2014), Bert has succeeded in finding the elusive blend of "being a cringe comedian with real insight" (Interrobang).
Lauded as one of the best storytellers of his generation, Bert seamlessly and sincerely shares anecdotes about his family and fatherhood while showing his ability to prove "that there's a way to take his [party-boy] antics into middle-age," (Forbes). His infamous story about robbing a train with the Russian Mafia was recently optioned by Legendary (the studio behind The Hangover Series, Jurassic World, and Straight Outta Compton) to be turned into a movie. After the successful debut of The Body Shots World Tour in 2019, where he quickly sold out theaters and added shows in almost every market, Bert performed 59 shows of his "Hot Summer Nights," a socially-distanced outdoor tour spanning 35+ cities across 18 states and reaching 80,000+ individuals, coining him as the first-ever stand-up comedian to embark on a drive-in comedy tour.
Currently, Bert is preparing to tour his Fully Loaded Comedy Festival at minor-league ballparks, a race track, an indoor arena, and an outdoor amphitheater. He will resume The Berty Boy Relapse Tour in September 2022.
Venue Presale: Thursday, July 14, 2022 at 10:00 a.m. –  10:00 p.m.
Venue Presale tickets will be available online only at Ticketmaster.com with the presale code. To receive the presale code, please sign up for our free email newsletter at https://bit.ly/2LC76Y2 by Wednesday, July 13, 2022 at 11:59 p.m or download our free mobile app and enable push notifications by Thursday, July 14 at 9:59 a.m. Our mobile app is available to download on the App Store for iOS devices and on Google Play on Android devices. The Venue Presale code will be released via email when the presale begins (July 14 at approximately 10:00 a.m.).
On Sale: Friday, July 15, 2022 at 10:00 a.m.
Tickets on sale to the general public will be available at Ticketmaster.com or in person only at The Dow Event Center Box Office on Thursdays from 10 a.m. – 2 p.m. and Fridays 10 a.m. – 5 p.m. at internal window #10.
Ticket Prices:  $39.75  |  $59.75  |  $79.75 |  $99.75
*Additional fees may apply when purchased through Ticketmaster. Prices listed are when purchased in person at our box office.
*Prices vary by seat location. Prices are subject to change based on supply and demand.
Improvements Coming To The Dow Event Center Parking Ramp
To improve your entertainment experience, The Dow Event Center is in the process of renovating its parking structure across from venue. These capital improvements include repairing and replacing the elevators and lighting, and performing structural upgrades to the parking ramp.
While this is in progress, parking will be available at the following locations:
Dow Event Center front lot, 303 Johnson
400 lot across from The Dow Event Center, 400 Johnson
Dow Event Center Parking Ramp
Delta College Lot
Credit cards are now accepted!