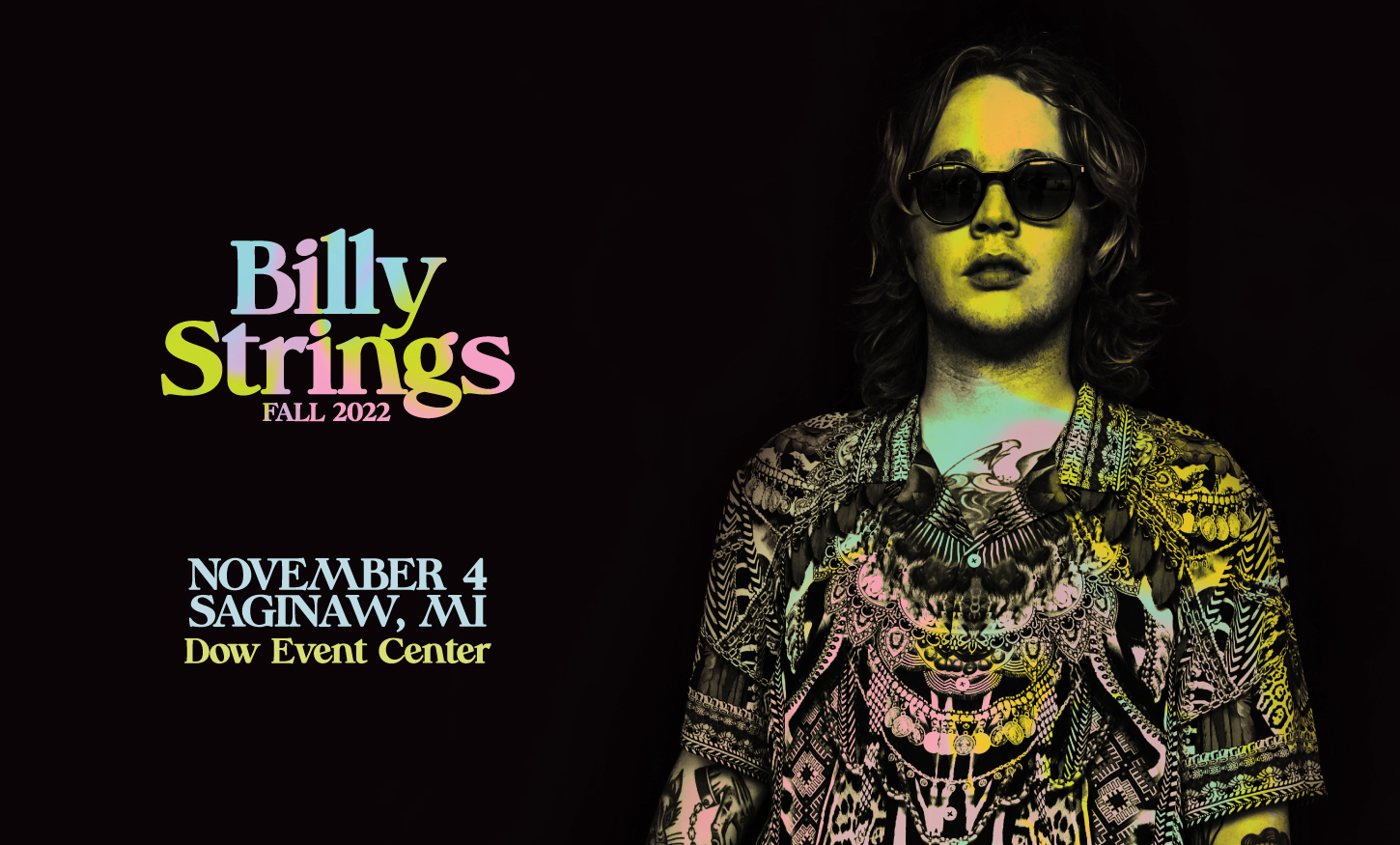 Billy Strings

Billy Strings
Friday, November 4, 2022 at 8:00 p.m.
The Dow Event Center Arena
CLICK HERE FOR PRE-EVENT NOTES
GRAMMY Award Winning Billy Strings is performing at Dow Event Center in Saginaw, MI on November 4.
Out now via Rounder Records, Renewal was produced by Jonathan Wilson and solidifies Strings' position as a singular artist—one who honors the history of the music that inspires him, while continually pushing it forward. With the record's sixteen tracks, Strings shares a more personal and honest perspective through his songwriting, while incorporating his wide range of influences with elements of bluegrass, classic rock, metal, psychedelic music and more.
"a premier bluegrass mind for this post-everything era…he has zigged and zagged between the form's antediluvian traditions and rapid-fire improvisations that hit like hard bop, all within songs with hooks so sharp that he seems poised for crossover stardom."—The New York Times

"In addition to some dazzling picking from Strings and his bandmates, there's a heaviness to the chord progressions and lyrics that speaks to his love of metal."—Rolling Stone

"Strings' high level of musicianship and lyrical sincerity are the kind that defies the boundaries of time and genre."—Spin
Mask wearing will be encouraged. Entry requirements are subject to change.
On Sale: Friday, July 1, 2022 at 10:00 a.m.
Please plan to arrive with plenty of time for processing and entry. Doors open at 6:30PM. All tickets (Internet & Phone purchased) are MOBILE DELIVERY ONLY. Delayed delivery, no tickets will be delivered prior to October 27, 2022. NO Refunds or exchanges. All sales are final. There is a strict 4 ticket limit. Additional orders exceeding the ticket limit may be cancelled without notice. This includes orders associated with the same name, e-mail address, billing address, credit card number, and/or other information. Tickets on sale to the general public will be available at Ticketmaster.com or in person only at The Dow Event Center Box Office Thursdays 10:00 a.m. – 2:00 p.m. and Fridays 10 a.m. – 5 p.m. Please visit internal window #10 at that time.
Advance of Show Prices: $44.00 | $54.00 | $74.00 | GAFloor $74.00
Day of Show Prices: $49.00 | $59.00 | $79.00 | GAFloor $79.00
*Additional fees may apply when purchased online. Prices listed are when purchased in person at the Dow Event Center Box Office.
*Prices vary by seat location. Prices are subject to change based on supply and demand.
Improvements Coming To The Dow Event Center Parking Ramp
To improve your entertainment experience, The Dow Event Center is in the process of renovating its parking structure across from venue. These capital improvements include repairing and replacing the elevators and lighting, and performing structural upgrades to the parking ramp.
While this is in progress, parking will be available at the following locations:
Dow Event Center front lot, 303 Johnson
400 lot across from The Dow Event Center, 400 Johnson
Dow Event Center Parking Ramp
Credit cards are now accepted!