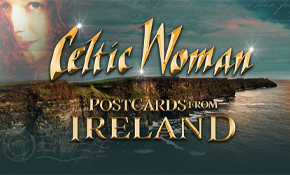 Celtic Woman: Postcards from Ireland

Grammy nominated global music sensation Celtic Woman is thrilled to return in 2022 with a brand-new show Postcards from Ireland.
Postcards from Ireland celebrates the rich musical and cultural heritage of Ireland; taking audiences on a journey of story and song from across the Emerald Isle.
Embrace an evening of angelic voices, breath-taking harmonies and instrumental virtuosity, transporting you from your theatre seat to the lush landscapes or Ireland.
Celtic Woman's fresh fusion of traditional Irish music and contemporary songcraft celebrates Ireland's ancient heritage while reflecting the vibrant spirit of modern Ireland.
With Irish dancers, bagpipers and an array of traditional Irish instruments – including the bodhran, tin whistle and uilleann pipes – this dynamic and multitalented group has captivated audiences all around the world.
Join us for this very special show Postcards from Ireland, and experience the beauty of Ireland brought to life by Celtic Woman. For more information please visit www.celticwoman.com.
Venue Presale: Tuesday, April 20, 2021 at 12:00 p.m. – Monday, April 26, 2021 at 11:59 p.m.
Venue Presale tickets will be available online only at Ticketmaster.com with the presale code. To receive the presale code, please sign up for our free email newsletter at https://bit.ly/2LC76Y2 or download our free mobile app and enable push notifications by Monday, April 19, 2021 at 11:59 p.m. Our mobile app is available to download on the App Store for IOS devices and on Google Play on Android devices. The Venue Presale code will be released via email when the presale begins (April 19th at approximately 12:00 p.m.).
On Sale: Tuesday, April 27, 2021 at 12:00 p.m.
Tickets on sale to the general public will be available at Ticketmaster.com, Ticketmaster by phone 1-800-982-2787 or in person only at The Dow Event Center Box Office. Please note, due to the current global health crisis our box office is operating under limited hours. Beginning April 29, our box office will be open every Thursday from 10:00 a.m. – 2:00 p.m. until further notice. Please visit external window #2 to purchase your tickets during that time.
Ticket Prices: $41.50  |  $61.50  |  $152.50
Group Prices: $37.50  |  $55.50
Group Discounts: Group discounts are available with groups of 10 or more. Group discounts are only available in person at The Dow Event Center Box Office. The discount will be applied when the tickets are purchased in one single transaction.
*Additional fees may apply when purchased through Ticketmaster. Prices listed are when purchased in person at the Dow Event Center Box Office.
*Prices vary by seat location. Prices are subject to change based on supply and demand.
Improvements Coming To The Dow Event Center Parking Ramp
To improve your entertainment experience, The Dow Event Center is in the process of renovating its parking structure across from venue. These capital improvements include repairing and replacing the elevators and lighting, and performing structural upgrades to the parking ramp.
While this is in progress, parking will be available at the following locations:
Dow Event Center front lot, 303 Johnson
400 lot across from The Dow Event Center, 400 Johnson
Delta College Lot, corner of Jefferson and Johnson, .1 miles, 3 minute walk
Michigan Works, 312 E. Genesee, .3 miles, 6 minute walk
Credit cards are now accepted!