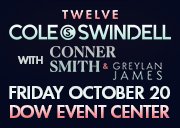 Cole Swindell

Cole Swindell
Friday, October 20, 2023 at 7:00 p.m.
The Dow Event Center Arena
CLICK HERE FOR VENUE COVID-19 POLICY & PROCEDURES
CLICK HERE FOR SHOW PRE-EVENT NOTES
As a songwriter and a singer, Cole Swindell is one of the linchpins of the breezy country-pop sound that became known as bro-country in the 2010s. He first came to prominence as a songwriter for Luke Bryan, a fellow alumnus of Georgia Southern University, but around the time Bryan took "Roller Coaster" to number one, Swindell began his own climb up the charts. He racked up several big hits in the middle of the 2000s — "Chillin' It," "Hope You Get Lonely Tonight," "Ain't Worth the Whiskey," "You Should Be Here" — that became emblematic of the sound of mainstream country of its era: friendly, melodic, and sunny, blending elements of rock and hip-hop with country. Swindell extended his hot streak into a new decade when "Single Saturday Night" reached the number one Country Airplay hit in 2020. Both that song and the chart-topping "She Had Me at Heads Carolina" anchored his 2022 album, Stereotype.
Born in Bronwood, Georgia, on June 30, 1983, Cole Swindell began to pursue music while he was a college student. After spending time at Dawson's Terrell Academy, he transferred to Georgia Southern University, where he happened upon Luke Bryan, a fellow member of the Sigma Chi fraternity. Bryan returned to GSU to play a show while Swindell was attending the college and the two became fast and enduring friends. Once he left university in 2007, he entered Bryan's team, selling merchandise for the star and spending his spare time writing songs.
Swindell signed with Sony/ATV Publishing in 2010 and soon began landing prominent placements. Bryan recorded a number of Swindell songs, including the hit "Roller Coaster," but the fledgling songwriter also had Thomas Rhett, Scotty McCreery, and Craig Campbell cut his tunes. As he gained a foothold as a songwriter, Swindell made tentative steps toward a performing career, releasing "Chillin' It" independently in 2013. It did well enough to earn the attention of Warner Music Nashville, which signed Swindell in July 2013, then re-released the single to country radio. "Chillin' It" wound up climbing to number one on Billboard's Hot Country charts, crossing over to 28 on the pop Top 40.
"Chillin' It" launched Swindell into the mainstream, setting up the release of his eponymous debut in February 2014. The album generated two number one hits on the Country Airplay charts that year — "Hope You Get Lonely Tonight" and "Ain't Worth the Whiskey" — and they shared space on the charts with "This Is How We Roll," a song he co-wrote with Luke Bryan, who recorded the tune with Florida Georgia Line. As he worked on a new album, Swindell released an EP called Down Home Sessions in November 2014; the Down Home Sessions would become a late-year tradition for the singer, who released an EP every November or October into 2017.
Swindell's purple patch extended into 2015, when he won ACM's New Artist of the Year award and "Let Me See Ya Girl" was pulled from his debut; it went to number two on the Country Airplay charts. "You Should Be Here," the first single from the album of the same name, was released in December 2015 and worked its way to number one on the Country Airplay charts in early 2016. "Middle of a Memory" reached the same position a little after the May 2016 release of You Should Be Here. "Flatliner," a duet with Dierks Bentley, kept the album in the charts into 2017 — it peaked at two on Country Airplay — after which time, Swindell turned to recording his third album. Entitled All of It, the record appeared in August 2018, preceded by "Break Up in the End," which peaked at six on Country Airplay. The following year saw the release of the singles "Down to Earth," "All Nighter," and "Drinkin' Hours," which were all collected on the EP Down Home Sessions V.
Swindell returned to the top of the Billboard Country Airplay charts in 2020 with "Single Saturday Night." The next year, he appeared on Shy Carter's single "Beer with My Friends" and duetted with Lainey Wilson on "Never Say Never," along with releasing the solo single "Some Habits." The latter two songs appeared along with Swindell's hit remake of Jo Dee Messina's "She Had Me at Heads Carolina" on his fourth album, Stereotype, released in April 2022. A deluxe version of the album featuring the single "Drinkaby" arrived early the next year.
Just 22 years old and already a seasoned veteran of Nashville's elite songwriting community, Conner Smith has become one of Country's most hotly-anticipated new artists – an uncommon talent mixing prime-of-life passion with old-soul perspective. After penning his first song at 6 and scoring a publishing deal at 16, the Country prodigy wrote five of the six songs on his Zach Crowell-produced 2022 debut collection DIDN'T GO TOO FAR (The Valory Music Co.). The charismatic effort laid an artistic foundation that earned Smith 2022 Artist to Watch status from Spotify, Amazon Music and Opry NextStage, while also making him the only Country artist on Pandora's Ten List 2022 and securing 2023 recognition from MusicRow Next Big Thing, CMT Listen Up, and more. Often hiding deep-thinking themes in plain sight, Smith scored his first Top 40 hit with the young-at-heart "Learn From It," and followed up with love-savoring "Take It Slow," which quickly racked up nearly 100 million global streams to date. Tracks like "I Hate Alabama," "Orange and White" and "Summer On Your Lips" mine unexpected insight from vivid everyday stories, and as Smith continues to grow up in full view of his fans – both on the page and the stage – CMT calls him "an unstoppable force to be reckoned with." That momentum will keep building in 2023, as Smith follows a year of touring alongside Thomas Rhett, Parker McCollum and Ryan Hurd with upcoming select dates opening for Chase Rice, and promises a new batch of "next level" music, further mixing in-the-moment energy with timeless meaning. Smith is currently on the road for his first-ever headline IF I WENT TO COLLEGE TOUR with special guests Mackenzie Carpenter and Jonathan Hutcherson presented by the Monster Energy Outbreak tour and joins Luke Bryan's COUNTRY ON TOUR this summer.
At just 5 years old, Greylan James' papaw gifted him his first guitar. From that moment on, whenever anyone would ask what he wanted to do in life, he responded, "I'm going to be a Country Music star." Shortly thereafter, Greylan met his hometown hero, Kenny Chesney, who told him to "stay in school and learn how to write songs" – which is exactly what he did.
The Knoxville, Tennessee native moved to Nashville to pursue his first major publishing deal when he was just 18 years old.  In 2018, Universal Music Publishing Group (UMPG) signed Greylan to a global publishing deal. He was featured on NBC's The Voice and ranked one of the best guitarists in the world under 21 by Guitar Center Magazine's Brotherhood of the Guitar Top 100.
"I write songs about the stories from my life and the stories I've seen others live. I just want anyone who's listening to my music to be able to relate to them," Greylan says.
Greylan has written songs for some of Country Music's most notable artists, such as Chris Young, Blake Shelton and Chris Janson. In 2020, he received a phone call from Chesney who let him know that he was cutting Greylan's song "Happy Does."
Keep an eye on this rising country singer-songwriter as he begins releasing his own music in 2021.
Venue Presale: Thursday, April 27, 2022 10:00 a.m – 10:00 p.m.
Venue Presale tickets will be available online only at Ticketmaster.com with the presale code. To receive the presale code, please sign up for our free email newsletter at https://bit.ly/2LC76Y2 by Wednesday, April 26, 2023 at 11:59 p.m or download our free mobile app and enable push notifications by Thursday, April 27, 2022 at 9:59 a.m. Our mobile app is available to download on the App Store for iOS devices and on Google Play on Android devices. The Venue Presale code will be released via email when the presale begins (April 27th at approximately 10:00 a.m.).
On Sale: Friday, April 28, 2023 at 10:00 a.m.
Tickets on sale to the general public will be available at Ticketmaster.com or in person only at The Dow Event Center Box Office. Our box office is open every Thursday from 10:00 a.m. – 2:00 p.m. and Friday 10:00 a.m. – 5:00 p.m. Please visit internal window #10 to purchase your tickets during that time.
Ticket Prices:  $39.00  |  $49.00  |  $59.00  |  $69.00
Aisle Seat Prices:  $49.00  |  $59.00  |  $69.00  |  $89.00
*Additional fees may apply when purchased through Ticketmaster. Prices listed are when purchased in person at the Dow Event Center Box Office.
*Prices vary by seat location. Prices are subject to change based on supply and demand.
Improvements Coming To The Dow Event Center Parking Ramp
To improve your entertainment experience, The Dow Event Center is in the process of renovating its parking structure across from venue. These capital improvements include repairing and replacing the elevators and lighting, and performing structural upgrades to the parking ramp.
While this is in progress, parking will be available at the following locations:
Dow Event Center front lot, 303 Johnson
400 Lot across from The Dow Event Center, 400 Johnson
Dow Event Center Parking Ramp
Credit cards are now accepted!