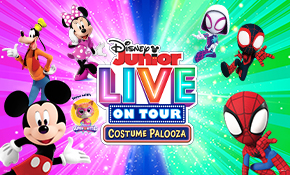 Disney Junior Live On Tour: Costume Palooza

Disney Junior Live On Tour: Costume Palooza
Thursday, October 19 at 6:00 p.m.
The Dow Event Center Theater
CLICK HERE FOR VENUE COVID-19 POLICY & PROCEDURES
CLICK HERE FOR SHOW PRE-EVENT NOTES
The three-time Pollstar nominated Disney Junior tour is back with Disney Junior Live On Tour: Costume Palooza! This show brings beloved Disney Junior characters and favorite Marvel Super Heroes live on stage for a jam-packed, concert-style show with singing, dancing, acrobatics, and more. It will feature favorite songs from hit Disney Junior series, as well as new original music. Mickey, Minnie, and their pals are getting ready to throw a huge costume party, but mysterious green rain, wind, and smoke keeps interrupting the fun. Can Spidey and his Amazing Friends help save the Costume Palooza? Come join the party and see Mickey, Minnie, Goofy, Doc McStuffins, the Puppy Dog Pals, Bo from Firebuds, Ginny from SuperKitties, and Marvel's Spidey and his Amazing Friends LIVE on stage!
Venue Presale:
Thursday, May 11, 2023 at 10:00 a.m. –  10:00 p.m.
Venue Presale tickets will be available online only at Ticketmaster.com with the presale code. To receive the presale code, please sign up for our free email newsletter at https://bit.ly/2LC76Y2 by Wednesday, May 10, 2022 at 11:59 p.m or download our free mobile app and enable push notifications by Thursday, May 11, 2023 at 9:59 a.m. Our mobile app is available to download on the App Store for iOS devices and on Google Play on Android devices. The Venue Presale code will be released via email when the presale begins (May 11th at approximately 10:00 a.m.).
On Sale: Friday, May 12, 2023 at 10:00 a.m.
Tickets on sale to the general public will be available at Ticketmaster.com or in person only at The Dow Event Center Box Office. Our box office is open every Thursday from 10:00 a.m. – 2:00 p.m. and Friday 10:00 a.m. – 5:00 p.m. Please visit internal window #10 to purchase your tickets during that time.
Ticket Prices:  $33.50  |  $43.50  |  $53.50  |  $63.50
*Additional fees may apply when purchased through Ticketmaster. Prices listed are when purchased in person at the Dow Event Center Box Office.
*Prices vary by seat location. Prices are subject to change based on supply and demand.
Improvements Coming To The Dow Event Center Parking Ramp
To improve your entertainment experience, The Dow Event Center is in the process of renovating its parking structure across from venue. These capital improvements include repairing and replacing the elevators and lighting, and performing structural upgrades to the parking ramp.
While this is in progress, parking will be available at the following locations:
Dow Event Center front lot, 303 Johnson
400 Lot across from The Dow Event Center, 400 Johnson
Dow Event Center Parking Ramp
Credit cards are now accepted!