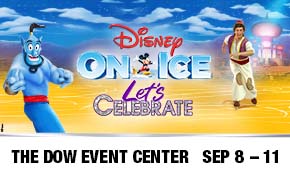 Disney On Ice Friday

Disney on Ice
Friday, September 9, 2022 at 7:00 p.m.
The Dow Event Center Arena
Grab your Mickey ears and get ready for the ultimate party when Disney On Ice presents Let's Celebrate skates into your hometown with more than 50 unforgettable Disney characters. Hosted by Mickey & Minnie, go on an adventure through 14 of the greatest Disney stories ever told. Sing along with Olaf as he dreams of summer and dance with Aladdin as he stays "one jump ahead" in Agrabah. Share Forky's wonder as he learns what it means to be a toy and forget your worries with Timon and Pumbaa. Dream with the courageous Disney Princesses and much more with your whole family at Disney On Ice: Let's Celebrate.
Audiences will be a part of the magic of Disney as Mouse-ter of Ceremonies Mickey Mouse leads a parade of more than 50 beloved characters starring Minnie Mouse, Donald Duck, Goofy and featuring an ensemble of Disney Princesses including Cinderella, Rapunzel, Ariel, Snow White and Tiana.  The wintry wonderland of Disney's Frozen also comes to life with Anna, Elsa, and the hilarious Olaf, as they discover that true love is the greatest magic of all.  Exciting moments from Disney•Pixar's Finding Dory, Disney's Aladdin and Beauty and the Beast will leave the whole family with memories to last a lifetime.
The legacy of Disney is displayed through 14 classic and modern stories in this epic production that features an international team of award-winning figure skaters, high-energy choreography and a breathtaking set.  With over 30 melodious masterpieces such as "Let It Go!," "You've Got A Friend in Me" and "Hakuna Matata," Disney On Ice Let's Celebrate is the ultimate Disney fan experience.  Families will join the fun in an exciting opening number that salutes Mickey Mouse and Minnie Mouse as the original hosts of Disney On Ice in an unforgettable experience in your hometown!
CLICK HERE FOR VENUE COVID-19 POLICY & PROCEDURES
Venue Presale: Thursday, May 5, 2022 at 8:00 a.m. – Monday, May 9, 2022 at 11:59 p.m.
Venue Presale tickets will be available online only at Ticketmaster.com with the presale code. To receive the presale code, please sign up for our free email newsletter at https://bit.ly/2LC76Y2 by Wednesday, May 4, 2022 at 11:59 p.m or download our free mobile app and enable push notifications by Thursday, May 5, 2022 at 9:59 a.m. Our mobile app is available to download on the App Store for iOS devices and on Google Play on Android devices. The Venue Presale code will be released via email when the presale begins (May 5 at approximately 10:00 a.m.).
Tickets on sale to the general public will be available at Ticketmaster.com or in person only at The Dow Event Center Box Office Thursdays 10:00 a.m. – 2:00 p.m. and Fridays 10 a.m. – 5 p.m. Please visit internal window #10 at that time.
$17.50 | $17.50 | $22.50 | $27.50 | $32.50 | $42.50 | $52.50 | $57.50
*Additional fees may apply when purchased through Ticketmaster. Prices listed are when purchased in person at the Dow Event Center Box Office.
*Prices vary by seat location. Prices are subject to change based on supply and demand.
Click here if you would like to attend the Thursday Evening show.
Click here if you would like to attend the Saturday Morning show.
Click here if you would like to attend the Saturday Afternoon show.
Click here if you would like to attend the Saturday Evening show.
Click here if you would like to attend the Sunday Morning show.
Click here if you would like to attend the Sunday Afternoon show.
Improvements Coming To The Dow Event Center Parking Ramp
To improve your entertainment experience, The Dow Event Center is in the process of renovating its parking structure across from venue. These capital improvements include repairing and replacing the elevators and lighting, and performing structural upgrades to the parking ramp.
While this is in progress, parking will be available at the following locations:
Dow Event Center front lot, 303 Johnson
400 lot across from The Dow Event Center, 400 Johnson
Credit cards are now accepted!