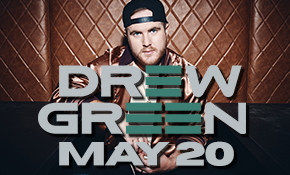 Drew Green presented by the Saginaw County Police Chief's Association

Drew Green presented by the Saginaw County Police Chief's Association
Friday, May 20, 2022 at 7:00 p.m.  |  Doors at 6:00 p.m.
The Red Room At The Dow Event Center
CLICK HERE FOR VENUE COVID-19 POLICY & PROCEDURES
Growing up on a tree farm in McMinnville, Tenn., Drew Green had a life encompassed by two things: The tractor he drove, and the music he played while on it. 
Green set the tone for his roots narrative when he dropped Dirt Boy Vol. 1 in Sept. 2020. This seven-song collection, released via Villa 40/Sony Music Nashville, featured the streaming successes "She Got That" and "Little More Be Alright." 
"Dirt Boy is the nickname given to those raised on a farm like I was," the 33-year-old entertainer proudly explains. "I was raised in a small town, learned to drive on my dad's John Deere at 7 years old, and, I married the girl of my dreams who grew up only three miles down the road." He declares, "I am the definition of Dirt Boy." 
Dirt Boy is a title that Drew Green says he's long envisioned naming an album. A singing career has also been a longtime dream ("I always said I want to be a rock star when I grow up," he quips), but unlike many of his country peers, Drew didn't immediately make music a priority upon going to college. Instead, he pursued a degree in finance, landing a promising job at a local bank upon graduating. But his desire to make it big in Nashville was always in the back of his mind, particularly because he'd already felt a taste of it at the famed Tootsie's Orchid Lounge. 
Drew landed a regular gig at the Nashville hotspot on lower Broadway after a fateful meeting with the owner at a trivia night. Tootsie's led Drew to meeting songwriter Hunter Phelps (Chase Rice, Chris Lane), who encouraged Drew's passion for songwriting. Those experiences inspired Drew to turn down a promotion at the bank and give music one more shot. Looking back, he has zero regrets: "I feel like I haven't worked a day since I quit the bank." 
Drew is the first to admit that it wasn't an overnight success story from there. He gave himself a five-year timeline to land his big break, which came as time was about to run out. In late 2019, Florida Georgia Line put a hold on his song "Colorado," and they released it on their Can't Say I Ain't Country album the next year. His decision to try music one last time paid off. 
Later in 2019, Drew landed his first music publishing deal with Warner Chappell Nashville and Grammy winner Brett James' company, Cornman Music. Subsequently, Drew brought on James as his manager and credits him with helping to score Green his record deal with Villa 40/Sony Music Nashville last year. 
Since then, Drew has given fans a taste of his astute songwriting ability and versatile musical stylings, starting with his heartfelt debut track, "Little More Be Alright," in June 2020. That fall, he unveiled Dirt Boy Vol. 1, which included the beguiling love song "She Got That," the singer's biggest hit to date with more than 35 million streams. 
At the top of 2021, Drew first hinted of a second EP with the release of the rowdy track "Hooch," his tribute to moonshine aficionados. Later he released from Dirt Boy Vol. 2, "Cold Beer and Copenhagen," which gives a glimpse of a softer side of the songwriter. "'Cold Beer and Copenhagen" is my favorite song I've written so far," he admits. The song is a revelatory change of pace for Drew, who found himself writing more personal songs upon signing his label deal. 
"I was always trying to get the smash or the song that was gonna blow up, the song that was gonna get me somewhere," Drew says. "I started writing a lot of chill, mid-tempo things that felt really good for me and felt honest. It felt like, 'Wow, I'm growing – expanding to include different musical directions than just what I've concentrated on for six years.'" 
Drew recognizes that on the outside, his ball-cap-and-beard appearance may not stand out amid his fellow male country acts. What will — and already has — though, is his fearlessness. "I say things that a lot of people never would," the singer suggests. "In writing, a few might say, 'You can't do that' and I'll say, 'Why not? It feels good.' I think that's gotten me somewhere. That's my thing." 
Drew Green is excited to push the boundaries of the country sound, too. Referencing influences as diverse as Alan Jackson and Dr. Dre, Drew insists that his songs will never be one-sided. "I want my music to blow your freakin' windows out," he says. "I know traditionalists will say that's not country, but to me country is day one on earth. It's what I'm talking about that makes it country." 
On Sale: Friday, March 11, 2022 at 10:00 a.m.
Tickets on sale to the general public will be available at Ticketmaster.com or in person only at The Dow Event Center Box Office. The Dow Event Center Box Office is currently open Thursdays 10:00 a.m. – 2:00 p.m. and Fridays 10:00 a.m. – 5:00 p.m. Please visit internal window #10 during that time.
General Admission Ticket Price: $35.00
VIP Rows 1 & 2 Ticket Price: $50.00
*Additional fees may apply when purchased through Ticketmaster. Prices listed are when purchased in person at the Dow Event Center Box Office.
*Prices vary by seat location. Prices are subject to change based on supply and demand.
Improvements Coming To The Dow Event Center Parking Ramp
To improve your entertainment experience, The Dow Event Center is in the process of renovating its parking structure across from venue. These capital improvements include repairing and replacing the elevators and lighting, and performing structural upgrades to the parking ramp.
While this is in progress, parking will be available at the following locations:
Dow Event Center front lot, 303 Johnson
400 lot across from The Dow Event Center, 400 Johnson
Delta College Lot, corner of Jefferson and Johnson, .1 miles, 3 minute walk
Michigan Works, 312 E. Genesee, .3 miles, 6 minute walk
Credit cards are now accepted!