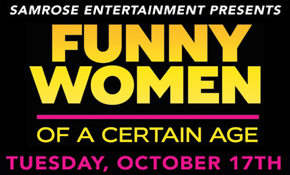 Funny Women of a Certain Age

Funny Women of a Certain Age
Tuesday, October 17, 2023 at 7:00 p.m.
Dow Event Center Red Room
CLICK HERE FOR VENUE COVID-19 POLICY & PROCEDURES
SamRose Entertainment has partnered with Funny Women Of A Certain Age to bring the hilariously funny show across four cities in Michigan October 17-20th. The tour will feature creator Carole Montgomery, Julia Scotti, Leighann Lord and Michigan favorite Ann Duke! And, we have special guest Connie Ettinger joining us for this show!
A portion of ticket sales will benefit the Pink Fund.
______________________________________
ABOUT FWOACA: "If I had to choose between ageism or sexism, I'd take a pat on the behind any day, since that meant someone noticed me."
Carole Montgomery created Funny Women Of A Certain Age. What began as a way to work with her friends has exploded on the comedy scene. When Carole (a veteran of the stand-up scene for over 40 years) started, you would never see two female comics on the same show. Fast forward to today's comedy scene and nothing has changed, even though there are way more women in comedy.
Funny Women or WOACA was created to give older women comics a chance to be seen and heard. Frustrated with how women are portrayed on television once they hit 50, Carole decided to do something about it. She's fighting ageism AND sexism one joke at a time. The women who appear in WOACA are all funny, vibrant and brilliant, they just happen to be of a certain age. These women paved the way for the female comics you see today.
The first TV special for the Showtime Network featured Fran Drescher, Carole Montgomery, Luenell, Lynne Koplitz, Vanessa Hollingshead and Kerri Louise. The special premiered March 23rd, 2019 and it made TV history as the first comedy special to feature 6 women over the age of 50. In fact, the special was the network's highest rated premiere of a stand up show for 2019! The second Showtime special More Funny Women Of A Certain Age premiered March 2020 to huge viewership and the third special premiered in November 2021. All three specials prove that indeed 
#funnynevergetsold
JULIA SCOTTI
Julia Scotti is a remarkably busy lady. In addition to performing standup in top venues coast to coast, you may have seen her on the "Today Show with Hoda and Jenna" and on Showtime where she was featured on the "More Funny Women of a Certain Age" special. Or, it might even be in, Susan Sandler's acclaimed documentary "Julia Scotti; Funny that Way" now streaming https://geni.us/JuliaScottiFilm. You can see Julia starring as Joy in the short film drama "Relatable Joy," in Judd Apatow/Universal Pictures film "Bros," starring Billy Eichner and will also be seen in the upcoming film tentatively titled "Untitled Pregnancy" with Ilana Glazer and Michelle Buteau.
As if that weren't enough, her latest comedy album for 800 Pound Gorilla Records titled "Primal Cuts" is out now and her Dry Bar Comedy Special is coming soon. Her first album "Hello Boys, I'm Back!" is still climbing and available for download. Her press kit continues to grow monthly with the latest being a featured interview in HUSTLER Magazine October 2021 issue. Simon Cowell said, "you genuinely made me laugh!" and Julia continues to remain a fan favorite of America's Got Talent audiences around the world. She has been named one of the Top Five Transgendered Comedians in the Country by Advocate Magazine.
CAROLE MONTGOMERY
"A comedy treasure who even more people need to know about."
THE INTERROBANG "One of Vegas' premier comics" THE LAS VEGAS SUN
"One of the pioneering female comics of the modern era" THE SAN ANTONIO EXPRESS
"One of the strongest women working today" THE SEATTLE TIMES
Carole Montgomery is a veteran stand–up comedian with over 40 years of experience. She is a writer, director and producer. Carole also works with comedians to develop their solo shows. Her recent project "FUNNY WOMEN OF A CERTAIN AGE" was Showtime's highest rated comedy special in 2019. Two more specials followed with more on the way! Carole continues to tour with FWOACA all over the country in theatres and comedy clubs.
LEIGHANN LORD
Leighann Lord's stand-up is frequently heard on XM-Sirius Satellite Radio and appeared on many stand-up comedy shows including Even More Funny Women of a Certain Age (Showtime), Girls Night Out (Lifetime), The Original Def Comedy All Star Jam (HBO), Premium Blend (Comedy Central), The World Stands Up (Comedy Central), Comics Unleashed with Byron Allen, VH1's 40 Most Shocking Celebrity Hair Moments, The View (ABC), Comic Quickies (SiTV), HA! Comedy (Gospel Music Channel) and We Got Next! (ASPIRE TV). Named one of New York's 10 Hot Comics by Improper Magazine her web site, VeryFunnyLady.com, says it all! Enjoy her recently released Dry Bar Comedy Special!
ANN DUKE
Ann Duke is a favorite of "women of a certain age" who can relate to the trials and tribulations of being single and navigating middle age. Her observations on generational differences and relationships are clever and poignant. For younger audiences she's your Mom's sassy, sexy best friend. She has performed at comedy shows and festivals across the region including Sound Board at Motor City Casino, Mark Ridley's Comedy Castle, Detroit House of Comedy, One Night Stan's, The Traverse City Comedy Club and the Detroit Women of Comedy Festival. She has appeared with national headliners Tom Papa, Vic Dibitetto, Eric D'Alessandro, Nathan Timmell, Lynne Koplitz, Dave Landau, Derek Richards, Zach Martina, Mike Bonner and more. In February of 2023, she co-produced the wildly successful First Annual Traverse City Comedy Fest and runs comedy shows across the state with her partner Mike Geeter and their company SamRoseEntertainment. She recently appeared as a speaker at TedxDetroit. In addition she is the Chief Development Officer for Habitat for Humanity of Oakland County.
CONNIE ETTINGER
Connie takes ordinary life events that resonate with virtually everyone and then plucks the funny from them and waves it around like a flag—- domesticity, aging, funerals, love handles, serious illness, even personal grooming habits —- creating an immediate bond with all audiences. Her sometimes frantic, yet always thoughtful delivery of cutting edge material is pulled from her life where nothing is off limits. "My life is an open book that is pitifully overdue and I can't decide whether to pay the fines and return it or just kick it back under the bed."
On Sale: Monday, September 18, 2023 at 10:00 a.m.
Tickets on sale to the general public will be available at Ticketmaster.com or in person only at The Dow Event Center Box Office. Our box office is open every Thursday from 10:00 a.m. – 2:00 p.m. and Friday 10:00 a.m. – 5:00 p.m. Please visit internal window #10 to purchase your tickets during that time.
Ticket Prices:  $31.00  |  $41.00  |  $51.00
*Additional fees may apply when purchased through Ticketmaster. Prices listed are when purchased in person at the Dow Event Center Box Office.
*Prices vary by seat location. Prices are subject to change based on supply and demand.
Improvements Coming To The Dow Event Center Parking Ramp
To improve your entertainment experience, The Dow Event Center is in the process of renovating its parking structure across from venue. These capital improvements include repairing and replacing the elevators and lighting, and performing structural upgrades to the parking ramp.
While this is in progress, parking will be available at the following locations:
Dow Event Center front lot, 303 Johnson
400 Lot across from The Dow Event Center, 400 Johnson
Dow Event Center Parking Ramp
Credit cards are now accepted!