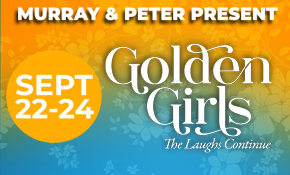 Golden Girls: The Laughs Continue

Golden Girls: The Laughs Continue
Sunday, September 24, 2023 at 2:00 p.m.
The Dow Event Center Theater
CLICK HERE FOR VENUE COVID-19 POLICY & PROCEDURES
CLICK HERE FOR FRIDAY, SEPTEMBER 22 @ 8 P.M. TICKETS
CLICK HERE FOR SATURDAY, SEPTEMBER 23 @ 8 P.M. TICKETS
CLICK HERE FOR SHOW PRE-EVENT NOTES
MP Presents the Golden Girls – The Laughs Continue live at the Dow Event Center with performances September 22-24, 2023.
This all new script, a parody of the classic television show, imagines what the girls would be doing if they were alive today in 2023. Starring male actors as the iconic TV characters: Blanche, Sophia, Dorothy and Rose.
The Golden Girls are back! Miami's sassiest seniors return for one more hurrah in an all-new show written by Robert Leleux and directed by Eric Swanson. 2022 finds Sophia out on bail, after being busted by the DEA for running a drug ring for retirees. Blanche and Rose have founded CreakN, a thriving sex app for seniors. And Dorothy is trying to hold it all together, with help from a new young sex-crazed lover. Relive the heartfelt hilarity of four ladies who never stopped being your friends!
Venue Presale: Thursday, June 1, 2023 at 10:00 a.m. –  10:00 p.m.
Venue Presale tickets will be available online only at Ticketmaster.com with the presale code. To receive the presale code, please sign up for our free email newsletter at https://bit.ly/2LC76Y2 by Wednesday, May 31, 2023 at 11:59 p.m or download our free mobile app and enable push notifications by Thursday, June 1, 2023 at 9:59 a.m. Our mobile app is available to download on the App Store for iOS devices and on Google Play on Android devices. The Venue Presale code will be released via email when the presale begins (June 1 at approximately 10:00 a.m.).
On Sale: Friday, June 2, 2023 at 10:00 a.m.
Tickets on sale to the general public will be available at Ticketmaster.com or in person only at The Dow Event Center Box Office. Our box office is open every Thursday from 10:00 a.m. – 2:00 p.m. and Friday 10:00 a.m. – 5:00 p.m. Please visit internal window #10 to purchase your tickets during that time.
Ticket Prices:  $30.00  |  $45.00  |  $60.00
*Additional fees may apply when purchased through Ticketmaster. Prices listed are when purchased in person at the Dow Event Center Box Office.
*Prices vary by seat location. Prices are subject to change based on supply and demand.
Improvements Coming To The Dow Event Center Parking Ramp
To improve your entertainment experience, The Dow Event Center is in the process of renovating its parking structure across from venue. These capital improvements include repairing and replacing the elevators and lighting, and performing structural upgrades to the parking ramp.
While this is in progress, parking will be available at the following locations:
Dow Event Center front lot, 303 Johnson
400 Lot across from The Dow Event Center, 400 Johnson
Dow Event Center Parking Ramp
Credit cards are now accepted!