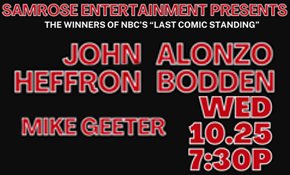 LOL at the Dow

LOL at the Dow
Wednesday, October 25, 2023 at 7:30 p.m.
The Dow Event Center Theater
CLICK HERE FOR VENUE COVID-19 POLICY & PROCEDURES
SamRose Entertainment is excited to be able to bring not one but TWO superstar comedians to mid-Michigan's premiere entertainment venue, the Dow Event Center! Join us as we kick off the first of the "LOL At The Dow" comedy series with National touring comedians, Alonzo Bodden and Michigan's own John Heffron!
______________________________________
ABOUT ALONZO: A regular panel member on NPR's Wait Wait…Don't Tell Me, Alonzo Bodden has been making audiences around the country laugh for close to 30 years. Alonzo starred in his fourth stand-up special, Heavy Lightweight, which premiered exclusively on Amazon Prime Video. His first big comedy break came when he was on the "New Faces of Comedy" showcase at the Just for Laughs Festival in Montreal, but it was as the season three winner of NBC's Last Comic Standing, where Alonzo was first introduced to America. Since then, he has starred in two comedy specials for Showtime: Historically Incorrect and Who's Paying Attention. He's also made appearances on CBS' Ghosts, ABC's Dr. Ken and Fresh Off the Boat and Californication. Movie credits include Bringing Down The House, Scary Movie 4 and The Onion Movie Talk shows, Dr. Phil, The Tonight Show with Jay Leno, Late Night with Conan O'Brien, Comedy Central's The Nightly Show with Larry Wilmore. A car and motorcycle aficionado, Bodden hosted Speed Channel's 101 Cars You Must Drive and has joined Jay Leno for several off-road trips on his CNBC series Leno's Garage. He was also a field correspondent on Animal Nation with Anthony Anderson, and a contributor on the Science Channel's How to Build Everything. Alonzo released his fifth comedy CD titled Man Overboard. Alonzo has been performing on Jazz Cruises and hosted the Capital Jazz Festival. His comedy riffs have been compared to jazz solos by some the greatest jazz artists from Marcus Miller to Robert Glasper to Dee Dee Bridgewater. He's also a regular on The Young Turks where he gives his unique take on what's going on in the world.
ABOUT JOHN: Energetic and accessible, acclaimed standup John Heffron shares an array of relatable experiences from childhood through life as a married father. He's learned a thing or two about relationships with family, friends, and even himself along his journeys, gaining an astute, uniquely honest perspective widely praised among his comedy peers. Audiences of all ages relate to his enthusiastic, hard-won wisdom, recognizing how often the path to maturity is marked by universal triumphs and failures. Rather than mock differences, the Detroit native aims to engage, connect, and enlighten.
Long before emerging victorious in the second season of NBC's hit reality competition Last Comic Standing, Heffron first took the stage at the University of Michigan campus's Main Street Comedy Showcase. He soon found himself skipping night classes to pursue his passion and branching into FM radio, serving as Danny Bonaduce's wingman on Detroit's Number One morning show, Danny Bonaduce and the Q Crew.
Along with appearances on The Tonight Show , Chelsea Lately, The Late Late Show, HBO, FX, VH1, A&E, and CMT, Heffron remains one of a small handful of veteran performers to tape two separate Comedy Central specials and has An Hour Special "Middle Class Funny" on Netflix.
In the podcasting realm, Heffron has guested on WTF with Marc Maron, The Joe Rogan Experience, and Ari Shaffir's Skeptic Tank. He launched his own The State I'm In on the All Things Comedy network in August 2014. Much like his self-effacing live material, Heffron's podcast invites guests and listeners alike to explore the ever-fluctuating position they find themselves in both physically and mentally.
In addition to headlining clubs and appearing at festivals around the world, Heffron remains in high demand as a performer at events for numerous Fortune 50 companies including Mercedes, Frito Lay, Sonic, Johnson & Johnson, Ernst and Young, And The FBI Just to name a few.
His four albums, Middle Class Funny DVD, and best-selling advice book I Come to You From the Future: Everything You'll Need to Know Before You Know It are available on iTunes and Amazon.
ABOUT MIKE: As an Ivy League dropout and community college graduate from Pontiac, MI, Mike brings a pointed look at life, family, and relationships that few others can…or should. Mike has worked in some of the finest comedy venues in the country to work with mainstream comedians as Kevin Hart, Hannibal Burress, Jim Norton, Artie Lange, Rickey Smiley, and Natasha Leggero to name a few. Mike was featured on Hulu and Fox Television's comedy showcase "Laughs" (Season 1) and the Detroit episode of "Kevin Hart Presents: Hart Of The City 2" on Comedy Central (Season 2).
On Sale: Monday, September 18, 2023 at 10:00 a.m.
Tickets on sale to the general public will be available at Ticketmaster.com or in person only at The Dow Event Center Box Office. Our box office is open every Thursday from 10:00 a.m. – 2:00 p.m. and Friday 10:00 a.m. – 5:00 p.m. Please visit internal window #10 to purchase your tickets during that time.
Ticket Prices:  $41.00  |  $51.00  |  $61.00
*Additional fees may apply when purchased through Ticketmaster. Prices listed are when purchased in person at the Dow Event Center Box Office.
*Prices vary by seat location. Prices are subject to change based on supply and demand.
Improvements Coming To The Dow Event Center Parking Ramp
To improve your entertainment experience, The Dow Event Center is in the process of renovating its parking structure across from venue. These capital improvements include repairing and replacing the elevators and lighting, and performing structural upgrades to the parking ramp.
While this is in progress, parking will be available at the following locations:
Dow Event Center front lot, 303 Johnson
400 Lot across from The Dow Event Center, 400 Johnson
Dow Event Center Parking Ramp
Credit cards are now accepted!