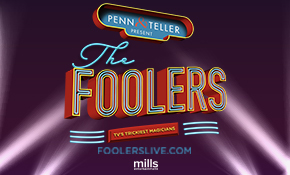 Penn & Teller present The Foolers

Penn & Teller present: The Foolers
Tuesday, September 19, 2023 at 7:30 p.m.
The Dow Event Center Theater
CLICK HERE FOR VENUE COVID-19 POLICY & PROCEDURES
CLICK HERE FOR SHOW PRE-EVENT NOTES
The Foolers brings an evening of jaw-dropping illusions curated by Penn & Teller. Celebrating television's #1 rated magic show, this interactive and irreverent evening presents the Fool Us alumni who share the distinction of being among the few who have impressed the pair with mystifying mind magic and hilarious comedic routines.  In addition to bringing Vegas-caliber modern magic to cities across the US, master magicians Alex Ramon, Jessica Jane, Matt Donnelly and Vinny Grosso, collectively known as "The Foolers" pay homage to the classic magic of Penn & Teller.  Don't miss this chance to see TV's trickiest magicians for an evening of unforgettable fun!
Please note: Penn & Teller will not be present at this event.
Venue Presale: Wednesday, June 14, 2023 at 10:00 a.m. –  Thursday, June 15, 2023 at 10:00 p.m.
Venue Presale tickets will be available online only at Ticketmaster.com with the presale code. To receive the presale code, please sign up for our free email newsletter at https://bit.ly/2LC76Y2 by Tuesday, June 13, 2023 at 11:59 p.m or download our free mobile app and enable push notifications by Wednesday, June 14, 2023 at 9:59 a.m. Our mobile app is available to download on the App Store for iOS devices and on Google Play on Android devices. The Venue Presale code will be released via email when the presale begins (June 14 at approximately 10:00 a.m.).
On Sale: Friday, June 16, 2023 at 10:00 a.m.
Tickets on sale to the general public will be available at Ticketmaster.com or in person only at The Dow Event Center Box Office. Our box office is open every Thursday from 10:00 a.m. – 2:00 p.m. and Friday 10:00 a.m. – 5:00 p.m. Please visit internal window #10 to purchase your tickets during that time.
Ticket Prices:  $39.25  |  $49.25  |  $59.25  |  VIP $85.75
*Additional fees may apply when purchased through Ticketmaster. Prices listed are when purchased in person at the Dow Event Center Box Office.
*Prices vary by seat location. Prices are subject to change based on supply and demand.
Improvements Coming To The Dow Event Center Parking Ramp
To improve your entertainment experience, The Dow Event Center is in the process of renovating its parking structure across from venue. These capital improvements include repairing and replacing the elevators and lighting, and performing structural upgrades to the parking ramp.
While this is in progress, parking will be available at the following locations:
Dow Event Center front lot, 303 Johnson
400 Lot across from The Dow Event Center, 400 Johnson
Dow Event Center Parking Ramp
Credit cards are now accepted!