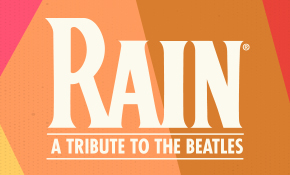 RAIN: A Tribute to The Beatles

RAIN: A Tribute to the Beatles SONGS FROM ABBEY ROAD AND THE ROOFTOP CONCERT LIVE!
Tuesday, July 18, 2023 at 7:30 p.m.
Jolt Credit Union Event Park
CLICK HERE FOR VENUE COVID-19 POLICY & PROCEDURES
CLICK HERE FOR PRE-EVENT NOTES
Saginaw, MI – RAIN: A Tribute to the Beatles is coming to the Jolt Credit Union Event Park on Tuesday, July 18th. Tickets start at $32.00 plus applicable fees and go on-sale Friday, March 3rd at 10:00am. Tickets are available at ticketmaster.com.
About RAIN: This mind-blowing performance takes you back in time with the legendary foursome delivering a note-for-note theatrical event that is "the next best thing to seeing The Beatles!" (Associated Press). Experience the worlds' most iconic band and come celebrate The Best of Abbey Road Live with RAIN – ATRIBUTE TO THE BEATLES. In addition to the updated sets that include state of the art LED, high definition screens and multimedia content, RAIN will bring the "Abbey Road" album and the "Rooftop Concert" to life with the launch of the 2023 Tour.
Together longer than The Beatles, RAIN has mastered every song, gesture, and nuance of the legendary foursome, delivering a totally live, note-for-note performance that's as infectious as it is transporting. Let RAIN take you back with all of the greatest hits along with all of your other Beatles favorites! This adoring tribute will take you back to a time when all you needed was love, and a little help from your friends!
Like The Beatles, the onstage members of RAIN are not only supreme musicians, but electrifying performers in their own right!
About Pepper Entertainment
Established in July of 2006, Pepper (PE) is based in Sioux Falls, SD. As one of the fastest scaling, independent promotions company in the Midwest, PE, collectively, exceeds 25 years of experience spanning a broad scope of industry specialties, such as; Live Promotions, Corporate & Private Event Talent Buying, Club & Performing Art Center Programming & Media & Marketing Services. Pepper currently ranks 27th of Top 100 Worldwide Promoters according to Pollstar Magazine and was nominated in 2020 as Promoter of The Year by The Academy of Country Music Awards. Pepper holds offices in Sioux Falls, SD, Minneapolis, MN and Boise, ID.
Venue Presale: Thursday, March 2, 2023 at 10:00 a.m. –  10:00 p.m.
Venue Presale tickets will be available online only at Ticketmaster.com with the presale code. To receive the presale code, please sign up for our free email newsletter at https://bit.ly/2LC76Y2 by Wednesday, March 1, 2023 at 11:59 p.m or download our free mobile app and enable push notifications by Thursday, March 2, 2023 at 9:59 a.m. Our mobile app is available to download on the App Store for iOS devices and on Google Play on Android devices. The Venue Presale code will be released via email when the presale begins (March 2nd at approximately 10:00 a.m.).
On Sale: Friday, March 3, 2023 at 10:00 a.m.
Tickets on sale to the general public will be available at Ticketmaster.com or in person only at The Dow Event Center Box Office. Our box office is open every Thursday from 10:00 a.m. – 2:00 p.m. and Friday 10:00 a.m. – 5:00 p.m. Please visit internal window #10 to purchase your tickets during that time.
Ticket Prices:  $43.00  |  $63.00  |  $83.00  |  $123.00
*Additional fees may apply when purchased through Ticketmaster. Prices listed are when purchased in person at the Dow Event Center Box Office.
*Prices vary by seat location. Prices are subject to change based on supply and demand.
Improvements Coming To The Dow Event Center Parking Ramp
To improve your entertainment experience, The Dow Event Center is in the process of renovating its parking structure across from venue. These capital improvements include repairing and replacing the elevators and lighting, and performing structural upgrades to the parking ramp.
While this is in progress, parking will be available at the following locations:
Dow Event Center front lot, 303 Johnson
400 Lot across from The Dow Event Center, 400 Johnson
Dow Event Center Parking Ramp
Credit cards are now accepted!