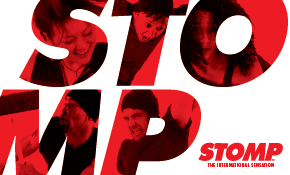 STOMP

STOMP

Wednesday, April 27, 2022 at 7:30 p.m.  |  Doors at 6:30 p.m.
The Dow Event Center Theater
DOWNLOAD THE PROGRAM FOR STOMP
CLICK HERE FOR IMPORTANT PRE-EVENT NOTES
CLICK HERE FOR VENUE COVID-19 POLICY & PROCEDURES
STOMP is explosive, inventive, provocative, witty, and utterly unique—an unforgettable experience for audiences of all ages. The international percussion sensation has garnered armfuls of awards and rave reviews and has appeared on numerous national television shows. The eight-member troupe uses everything but conventional percussion instruments – matchboxes, wooden poles, brooms, garbage cans, Zippo lighters, hubcaps – to fill the stage with magnificent rhythms. Year after year, audiences worldwide keep coming back for more of this pulse-pounding electrifying show. As the Boston Globe says, "If you haven't seen STOMP, GO! If you have seen it, take someone and share the pleasure!" STOMP. See what all the noise is about.
Venue Presale: Tuesday, November 9, 2021 at 10:00 a.m. – Thursday, November 11, 2021 at 10:00 p.m.
Venue Presale tickets will be available online only at Ticketmaster.com with the presale code. To receive the presale code, please sign up for our free email newsletter at https://bit.ly/2LC76Y2 or download our free mobile app and enable push notifications by Tuesday, July 20, 2021 at 11:59 p.m. Our mobile app is available to download on the App Store for IOS devices and on Google Play on Android devices. The Venue Presale code will be released via email when the presale begins (July 21st at approximately 10:00 a.m.).
On Sale: Friday, November 12, 2021 at 10:00 a.m.
Tickets on sale to the general public will be available at Ticketmaster.com, Ticketmaster by phone 1-800-982-2787 or in person only at The Dow Event Center Box Office. The Dow Event Center Box Office is currently open Thursdays 10:00 a.m. – 2:00 p.m. and Fridays 10:00 a.m. – 5:00 p.m. Please visit external window #2 during that time.
Ticket Prices: $32.50  |  $47.50  |  $67.50
Student Discount: $22.50
Student discount is only available on select seats and must be purchased in person at The Dow Event Center Box Office during operating hours.
Group Discounts: $29.50  |  $43.00  |  $61.00
Group discounts are available with groups of 10 or more. Group discounts are only available in person at The Dow Event Center Box Office. The discount will be applied when the tickets are purchased in one single transaction.
*Additional fees may apply when purchased through Ticketmaster. Prices listed are when purchased in person at the Dow Event Center Box Office.
*Prices vary by seat location. Prices are subject to change based on supply and demand.
Improvements Coming To The Dow Event Center Parking Ramp
To improve your entertainment experience, The Dow Event Center is in the process of renovating its parking structure across from venue. These capital improvements include repairing and replacing the elevators and lighting, and performing structural upgrades to the parking ramp.
While this is in progress, parking will be available at the following locations:
Dow Event Center front lot, 303 Johnson
400 lot across from The Dow Event Center, 400 Johnson
Delta College Lot, corner of Jefferson and Johnson, .1 miles, 3 minute walk
Michigan Works, 312 E. Genesee, .3 miles, 6 minute walk
Credit cards are now accepted!