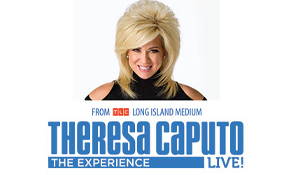 Theresa Caputo Live! The Experience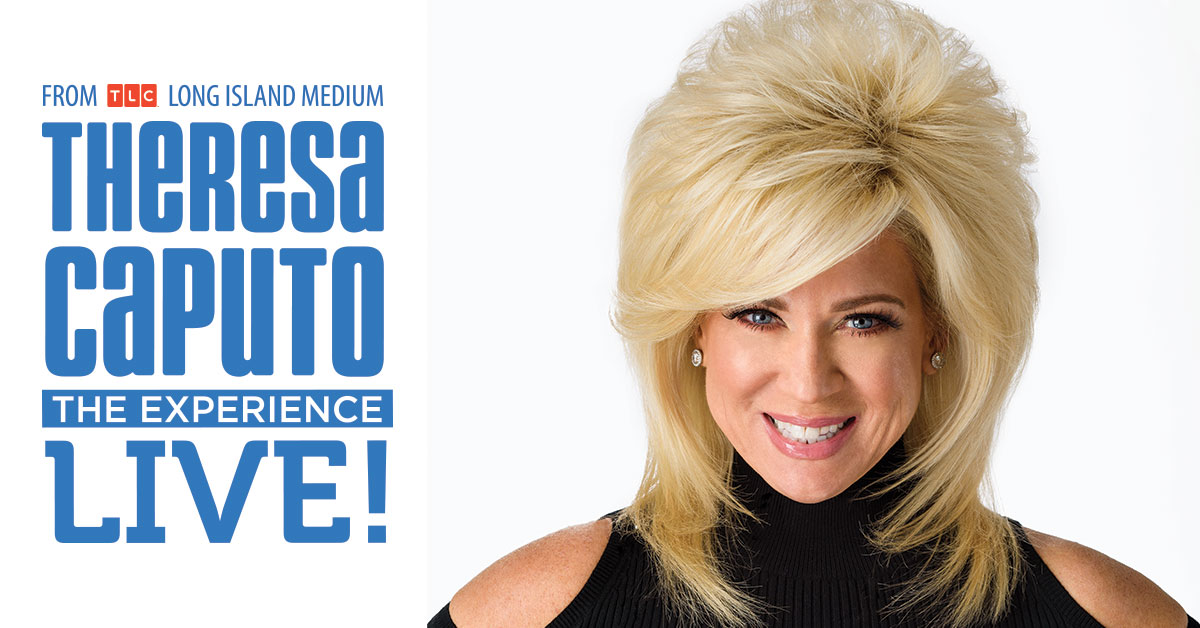 Theresa Caputo Live! The Experience

Friday, October 8, 2021 at 7:30 p.m.  |  Doors at 6:30 p.m.
The Dow Event Center Theater
CLICK HERE FOR VENUE COVID-19 POLICY & PROCEDURES
CLICK HERE FOR IMPORTANT EVENT INFORMATION 
Theresa Caputo, star of the hit TLC show, Long Island Medium, will share personal stories about her life and explain how her gift works. She will deliver healing messages to audience members and give people comfort knowing that their loved ones who passed are still with them, just in a different way. Theresa has been a practicing medium for over 20 years. She helps individuals find closure by delivering healing messages.
Although Theresa will be giving readings to various audience members throughout her show, the purchase of a ticket does not guarantee a reading.
Venue Presale: Thursday, July 22, 2021 at 10:00 a.m. –  10:00 p.m.
Venue Presale tickets will be available online only at Ticketmaster.com with the presale code. To receive the presale code, please sign up for our free email newsletter at https://bit.ly/2LC76Y2 or download our free mobile app and enable push notifications by Wednesday, July 21, 2021 at 11:59 p.m. Our mobile app is available to download on the App Store for IOS devices and on Google Play on Android devices. The Venue Presale code will be released via email when the presale begins (July 22nd at approximately 10:00 a.m.).
On Sale: Friday, July 23, 2021 at 10:00 a.m.
Tickets on sale to the general public will be available at Ticketmaster.com, Ticketmaster by phone 1-800-982-2787 or in person only at The Dow Event Center Box Office. The Dow Event Center Box Office is open Thursdays 10:00 a.m. – 2:00 p.m. and Fridays 10:00 a.m. – 5:00 p.m. Please visit external window #2 during that time.
Ticket Prices: $42.25  |  $62.25  |  $72.25  |  $92.25
*Additional fees may apply when purchased through Ticketmaster. Prices listed are when purchased in person at the Dow Event Center Box Office.
*Prices vary by seat location. Prices are subject to change based on supply and demand.
*8 ticket limit per purchase.
PRE-SHOW VIP photo opportunities
A limited number of PRE-SHOW VIP photo opportunities will be available as an add-on. Patrons are to arrive at 3:30pm for a 4:30pm photo taken by a professional photographer (no personal cameras or smart phones will be allowed).  Your photo will be ready to download within three business days of the event.  Instructions on how to get your photo will be handed to you during the VIP Pre-show event. Please note that neither autographs nor readings will be available. When arriving at the venue, please head to the box office for further instructions.
VIP Pre-Show Package Price: $49.95 (Not sold separately, must be purchased with a show ticket.)
Important:
Please note that guests who have purchased a VIP upgrade must wear a proper face-covering at all times during the VIP event including in line, during the photo opportunity with Theresa, and exiting the VIP experience. This policy is enforced for all patrons, regardless of vaccination status– there will be no exceptions.
Improvements Coming To The Dow Event Center Parking Ramp
To improve your entertainment experience, The Dow Event Center is in the process of renovating its parking structure across from venue. These capital improvements include repairing and replacing the elevators and lighting, and performing structural upgrades to the parking ramp.
While this is in progress, parking will be available at the following locations:  
Dow Event Center front lot, 303 Johnson
400 lot across from The Dow Event Center, 400 Johnson
Delta College Lot, corner of Jefferson and Johnson, .1 miles, 3 minute walk
Credit cards are now accepted!