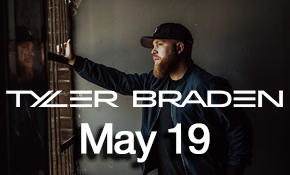 Tyler Braden with special guest Jason Cross presented by the Saginaw County Police Chiefs Association

Tyler Braden with special guest Jason Cross presented by the Saginaw County Police Chief's Association
Friday, May 19, 2023 at 7:00 p.m.  |  Doors at 6:00 p.m.
The Red Room At The Dow Event Center
CLICK HERE FOR VENUE COVID-19 POLICY & PROCEDURES
If ever there was a country artist ready to set the world on fire, it would have to be Tyler Braden. He has the gritty powerhouse vocal, the expressive pen and the ability to deliver a lyric with complete conviction worthy of a headliner.
Braden grew up in Slapout, AL, with parents who fostered an early appreciation for country music, guitar-playing songwriters filling the airwaves and a group of rock-loving friends. He spent much of his life blending these early influences to craft a sound all his own. His early twenties saw him playing local shows and touring the Southeast while serving as a first responder in Montgomery, AL.
A gig in Music City inspired his move north, and Braden continued firefighting in the suburbs of Nashville while preparing to take his music career to the next level. His first date at the homegrown Whiskey Jam concert series in January 2017 paved his path to today. With over 160 MILLION streams to his name and a growing list of major tour credits from Brantley Gilbert to Brooks & Dunn, he introduced himself to the world as a major label recording artist with his take on NEEDTOBREATHE's hit "Brother." Praised for his "commanding delivery" (Music Row), Braden offered the song as a tribute to his first responder family and all those fighting on the frontlines during the pandemic.
He has since earned massive fan response from original releases including "Love Is A Dead End Road," "Secret," "What Do They Know" and "Ways To Miss You." His debut single "Try Losing One" is currently at U.S. country radio and has already topped SiriusXM The Highway's Hot 30 Countdown. Braden's Warner Music Nashville debut EP WHAT DO THEY KNOW (WDTK) is out now.
Venue Presale: Thursday, January 26, 2023 at 10:00 a.m. – 10:00 p.m.
Venue Presale tickets will be available online only at Ticketmaster.com with the presale code. To receive the presale code, please sign up for our free email newsletter at https://bit.ly/2LC76Y2 or download our free mobile app and enable push notifications by Thursday, January 26, 2023 at 9:59 a.m. Our mobile app is available to download on the App Store for IOS devices and on Google Play on Android devices. The Venue Presale code will be released via email when the presale begins (January 26 at approximately 10:00 a.m.).
On Sale: Friday, January 27, 2023 at 10:00 a.m.
Tickets on sale to the general public will be available at Ticketmaster.com or in person only at The Dow Event Center Box Office. Our box office is open every Thursday from 10:00 a.m. – 2:00 p.m. and Friday 10:00 a.m. – 5:00 p.m. Please visit internal window #10 to purchase your tickets during that time.
General Admission Ticket Price: $35.00
Reserved R2-3 Ticket Price: $45.00
Reserved R1 Ticket Price: $65.00
*Additional fees may apply when purchased through Ticketmaster. Prices listed are when purchased in person at the Dow Event Center Box Office.
*Prices vary by seat location. Prices are subject to change based on supply and demand.
Improvements Coming To The Dow Event Center Parking Ramp
To improve your entertainment experience, The Dow Event Center is in the process of renovating its parking structure across from venue. These capital improvements include repairing and replacing the elevators and lighting, and performing structural upgrades to the parking ramp.
While this is in progress, parking will be available at the following locations:
Dow Event Center front lot, 303 Johnson
400 lot across from The Dow Event Center, 400 Johnson
Dow Event Center Parking Ramp
Credit cards are now accepted!