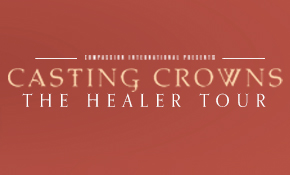 Casting Crowns with We Are Messengers & Ben Fuller

Casting Crowns- The Healer Tour with We Are Messengers & Ben Fuller
Thursday, May 4, 2023 at 7:00 p.m.
The Dow Event Center Theater
CLICK HERE FOR VENUE COVID-19 POLICY & PROCEDURES
Following a hugely successful touring season in 2022, performing in front of more than 300,000 people in 80+ tour markets, GRAMMY® winning multi-platinum group Casting Crowns has announced plans to extend The Healer Tour to 33 more U.S. cities in the spring of 2023. Presented by Compassion International, the Spring 2023 Healer Tour dates begin on March 2, in Myrtle Beach, S.C., and wrap up on May 6, in Beaver Dam, Kentucky. The spring leg of the tour features special guests We Are Messengers and Ben Fuller.
A special pre-sale ticket opportunity will take place beginning Wednesday, Dec. 7, 10 a.m. local time through Thursday, Dec. 8, 10 p.m. local time. General on-sale will begin Friday, Dec. 9, at 10 a.m. local time. Ticket options in most markets include a VIP add-on which offers a pre-show Q&A with Casting crowns (including a song performance), signed CD, souvenir laminate, early entry, early access to merch and a merch discount. Ticket information can be found at CastingCrowns.com.
The Healer Tour supports Casting Crowns' latest release, Healer (Deluxe), the follow-up to the band's early 2022 Healer album, which yielded hit singles "Scars In Heaven" and "Crazy People." Healer (Deluxe) features seven new songs in addition to the seven tracks on the original album.
Boiling down life's most challenging moments into digestible proclamations of faith is a cornerstone of the Casting Crowns brand. Singable truths that point to Jesus is what they've always been about and always will be about. But when setting out to write songs for their latest album, Healer, lead singer and primary songwriter Mark Hall was faced with a brand-new challenge. Like the rest of the world, he was stuck at home in the middle of a pandemic. Mark knew, given the circumstances, he needed to write songs for the moment. But the moment loomed so large, so global, it seemed an impossible task. Mark chose to stick to his signature straightforward truth and did the only thing he could do – he wrote from the heart. As he began crafting songs speaking to his own struggles, his own fears and uncertainty, an undeniable theme emerged.
"I was walking through the world being shut down, just like everybody else. I've been a youth pastor for over twenty years and here I was counseling teenagers who'd just lost their senior year, lost their friend groups, felt hopeless for the future. As I started working on this record, I realized all the songs I was writing dealt with healing in some way, something we all need. And more than that, we need a Healer. This whole album is about healing, about how God meets us where we are and what His healing looks like."
Healer, while sonically diverse, drives home one main idea – the need for Jesus the Healer to be the center of our lives. The title track, a sweeping. big-voiced plea-turned-prayer, speaks to the things we often try instead of turning to the Healer. "The point of this song is that healing is not going to come from the people we're voting for or the people we're following on screens," Mark says. "It's only going to come from Jesus. He is the Healer."
"Desert Road," a harmony-filled tune that plays like a Casting Crowns classic, speaks to those moments when God's plan isn't clear, but we're still called to follow. It's about the journey of getting past yourself and realizing God knows what He's doing, that He's already at the end of the road looking back on it. "When you feel like you're not in control, it can feel like no one's in control," Mark shares. "When we can't see the plan, we start wondering if there even is a plan. Sometimes He calms the storms and sometimes He rides them out with us. We have to learn how to let go of how we feel and learn to lean in to Who we know."
Mark 2 tells the story of a group of friends who brought their one friend to Jesus for healing. When the crowd was too large, they lowered their friend through the roof of a house to reach Jesus, and Jesus healed him. Inspired by that story, Mark wrote "Anything But Easy," a song about bringing our loved ones to Jesus, no matter the obstacle or circumstance. "The healing we're praying for in people's lives, God may be saying, I'm ready to heal their heart but I'm going to do it through how you love them. That's the question I'm asking myself. Do I love my friend enough to push through the awkwardness or them pushing back and not wanting to hear it, in order for them to have the truth?"
One of the most poignant songs on the album, "Scars In Heaven," a softly-sung ballad about a friend who's passed, shows a different side of healing. "We have it in our heads the healing we're praying for, for the people we love, should look at certain way. When that healing doesn't come the way we want it to, we think God didn't heal at all. In those moments, if we get in the Word and pray through it, we can see healing did come, it just didn't come the way we wanted it to."
While Healer boasts songs that evoke big emotions, the lighter, fun songs pack just as much of a truth punch. Toe-tappin', front-porch-guitar-pickin' groove, "2nd Opinions" is Mark's answer to his years of hearing students ask about verses from the Bible that aren't actually in the Bible. "I've had students for years say things like, 'what about the verse that says everything happens for a reason?' I'd tell them that's in the book of 2nd opinions." Aptly titled "Crazy People" talks about how the world often views Christians as a little bit crazy – following a God we've never seen and praying to a God we've never heard. "Think about Noah," Mark says. "Can you imagine coming home from work and your neighbor is building a boat the size of a football field in his yard? Because God told him to? You'd think this guy was crazy. I say the world could use more crazy people."
Listening through the album, it's clear the band's intention is to show that healing comes in many different colors and sizes. With songs that feel both familiar and brand new, Healer is a scripture-filled push forward, challenging the listener to seek true healing from Jesus, the only Healer we need.
We Are Messengers has over 400 million career streams, over 2.5 billion airplay audience, and a multi-week #1 Billboard radio song ("Come What May"), along with six Top 5 and ten Top 10 Christian Airplay hits with "Image of God," "Power," "Maybe It's Ok," "Magnify," "Point To You," "Love," "Everything Comes Alive," "God With Us," "This is Jesus" and "From Heaven to Earth (Joy to the World)." The band has had multiple sync film and TV placements on major networks including Lionsgate, MTV and CBC. We Are Messengers has played for a live audience of over 2 million people across 40 states and 5 countries, including selling out shows in the Netherlands, England, and lead vocalist Darren Mulligan's native Ireland. The band is headlining the Wholehearted Tour (April – November 2022) following on the heels of consecutive USA arena tours with Toby Mac and Casting Crowns.
The Dove-nominated and K-LOVE Award winning group's new single, "God You Are," is available now.
Current album – Wholehearted + released October 15, 2021
Current radio single – "God You Are"
Headlining The Wholehearted Tour – April – November 2022
400+ Million Career Streams
2.5 Billion+ Billion Career Airplay Audience
"Come What May" multi-week #1 radio hit
Six top 5 and ten top 10 radio singles
Two #1 singles in Australia
Has played for over 2 million people across 40 states and 5 countries
"I'll Think About You" featured on Lionsgate's The Shack
1 Dove Awards Nomination and 4 K-LOVE Fan Awards Nominations, including 1 win for Breakout Single of the Year for "Maybe It's Ok"
"I Don't Have the Answers" Featured on CBC's Hello Goodbye and MTV's Finding Carter
"I Want You" Featured on the trailer for Fox's Coupled.
Music has taken Ben Fuller's life and made it into something he never would have dreamed. Ben grew up in Southern Vermont on his family dairy farm working along-side his father. He'd pass the time by singing to old classic country tunes as he witnessed first-hand the hard work and dedication it took to run a farm. The songs never stopped and somewhere between the farm and college, he picked up a guitar and never looked back.
Due to generations of hurt in his family, Ben struggled with certain aspects of growing up and turned to cocaine and alcohol at a young age. In 2015, Ben got involved in a devastating drug-fueled relationship which led him to understand better, the other side of addiction. In addition, come 2017, he abruptly lost his best friend to a heroin overdose and his entire outlook on life shifted.
Motivated to change, he moved to Nashville to pursue a career as a country singer in late 2018. A family Ben was close with invited him to church one Sunday and as he walked the halls into the auditorium filled with 3,000 people, he knew one day he would sing "that kind of music" for the rest of his life. Falling face first into his new-found relationship with Jesus, he began writing with a burning desire to share what God did to turn his life around. Ben's story and lyrics caught the attention of multiple labels which lead Ben to sign a Label and Publishing deal with Sony Provident in December of 2021. With his new single "Who I Am" set to release on March 18th 2022, Ben is excited to watch his testimony come to life by way of his songs.
Venue Presale: Wednesday, December 7, 2022 at 10:00 a.m. –  Thursday, December 8, 2022 at 10:00 p.m.
Venue Presale tickets will be available online only at Ticketmaster.com with the presale code. To receive the presale code, please sign up for our free email newsletter at https://bit.ly/2LC76Y2 by Tuesday, December 6, 2022 at 11:59 p.m or download our free mobile app and enable push notifications by Wednesday, December 7, 2022 at 9:59 a.m. Our mobile app is available to download on the App Store for iOS devices and on Google Play on Android devices. The Venue Presale code will be released via email when the presale begins (December 7th at approximately 10:00 a.m.).
On Sale: Friday, December 9, 2022 at 10:00 a.m.
Tickets on sale to the general public will be available at Ticketmaster.com or in person only at The Dow Event Center Box Office. Our box office is open every Thursday from 10:00 a.m. – 2:00 p.m. and Friday 10:00 a.m. – 5:00 p.m. Please visit internal window #10 to purchase your tickets during that time.
Ticket Prices:  $32.50  |  $38.50  |  $51.00  |  $66.00  |  $103.50
Aisle Seats:  $42.50  |  $48.50  |  $61.00  |  $76.00  |  $113.50
GROUPS 10+:  $46.00  |  $61.00 
*Additional fees may apply when purchased through Ticketmaster. Prices listed are when purchased in person at the Dow Event Center Box Office.
*Prices vary by seat location. Prices are subject to change based on supply and demand.
Improvements Coming To The Dow Event Center Parking Ramp
To improve your entertainment experience, The Dow Event Center is in the process of renovating its parking structure across from venue. These capital improvements include repairing and replacing the elevators and lighting, and performing structural upgrades to the parking ramp.
While this is in progress, parking will be available at the following locations:
Dow Event Center front lot, 303 Johnson
400 Lot across from The Dow Event Center, 400 Johnson
Dow Event Center Parking Ramp
Delta College Lot
Credit cards are now accepted!