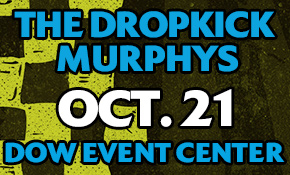 Dropkick Murphys

Dropkick Murphys w/ The Interrupters & Jesse Ahern
Saturday, October 21 at 7:00 p.m.
The Dow Event Center Arena
CLICK HERE FOR SHOW PRE-EVENT NOTES
Celtic punk band Dropkick Murphys are coming to The Dow Event Center in Saginaw on Saturday, October 21 with special guests The Interrupters and Jesse Ahern. Tickets start at $39.50 plus applicable fees and go on sale Friday, May 19, at 10 a.m.
Dropkick Murphys proudly remain Boston's rock 'n' roll underdogs turned champions. Since 1996, the boys have created the kind of music that's meant to be chanted at last call, in packed arenas, and during the fourth quarter, third period, or ninth inning of a comeback rally. Their celebrated discography includes four consecutive Billboard top 10 album debuts (Turn Up That Dial, 11 Short Stories Of Pain & Glory, Signed and Sealed in Blood, Going Out In Style), along with 2005's gold-selling The Warrior's Code featuring the near double platinum classic "I'm Shipping Up To Boston." Whether you caught a legendary gig at The Rathskeller (The Rat) under Kenmore Square, found the band by taking the T to Newbury Comics to cop Do Or Die in '98, discovered them in Martin Scorsese's Academy Award winning The Departed, or saw 'em throw down at Coachella (or one of hundreds of other festivals), you've become a part of their extended family. Dropkick Murphys' music has generated half-a-billion streams, they've quietly moved 8 million-plus units worldwide and the band has sold out gigs on multiple continents. In 2020, the band was one of the first to embrace streaming performances, starting with their Streaming Up From Boston St. Patrick's Day virtual performance. It was followed by their landmark Streaming Outta Fenway livestream, which drew more than 5.9 million viewers and held the #3 spot on Pollstar's "Top 2020 Live Streams" chart. Dropkick Murphys St. Patrick's Day Stream 2021…Still Locked Down, was #1 on Pollstar's Livestream chart for the week ending March 22, 2021, logging over 1 million views. Dropkick Murphys returned in 2022 with their first-ever all-acoustic album, This Machine Still Kills Fascists (Dummy Luck Music / [PIAS]), and seated theater tour. This Machine Still Kills Fascists–and their follow-up album Okemah Rising–breathe musical life into mostly unpublished lyrics by the legendary Woody Guthrie, curated for the band by Woody's daughter Nora Guthrie.
Formed in 2011, The Interrupters came together when the Bivona brothers – guitarist Kevin Bivona, bassist Justin Bivona, and drummer Jesse Bivona – found themselves on various bills with Aimee (Interrupter) as a solo artist. Upon bonding over musical tastes, the four formed The Interrupters and delivered their self-titled debut in 2014. The Interrupters have shared stages with bands such as Rancid, blink-182, Green Day, Bad Religion, and many other stalwarts of the punk scene, solidifying the band's status as a dynamic force. The band released their fourth studio album, In The Wild, in August 2022.
About Pepper Entertainment
Established in July of 2006, Pepper (PE) is based in Sioux Falls, SD. As one of the fastest scaling, independent promotions company in the Midwest, PE, collectively, exceeds 25 years of experience spanning a broad scope of industry specialties, such as; Live Promotions, Corporate & Private Event Talent Buying, Club & Performing Art Center Programming & Media & Marketing Services. Pepper currently ranks 27th of the Top 100 Worldwide Promoters according to Pollstar Magazine and was nominated in 2020 and 2022 as Promoter of The Year by The Academy of Country Music. Pepper holds offices in Sioux Falls, SD, Minneapolis, MN and Boise, ID.
Venue Presale: Thursday, May 18, 2023 at 10:00 a.m. – 10:00 p.m.
Venue Presale tickets will be available online only at Ticketmaster.com with the presale code. To receive the presale code, please sign up for our free email newsletter at https://bit.ly/2LC76Y2 or download our free mobile app and enable push notifications by Thursday, May 18, 2023 at 9:59 a.m. Our mobile app is available to download on the App Store for IOS devices and on Google Play on Android devices. The Venue Presale code will be released via email when the presale begins (May 18 at approximately 10:00 a.m.).
On Sale: Friday, May 19, 2023 at 10:00 a.m.
Tickets on sale to the general public will be available at Ticketmaster.com or in person only at The Dow Event Center Box Office. Our box office is open every Thursday from 10:00 a.m. – 2:00 p.m. and Friday 10:00 a.m. – 5:00 p.m. Please visit internal window #10 to purchase your tickets during that time.
Ticket Prices: $39.50 | $49.50 | $59.50
*Additional fees may apply when purchased online. Prices listed are when purchased in person at the Dow Event Center Box Office.
*Prices vary by seat location. Prices are subject to change based on supply and demand.
Improvements Coming To The Dow Event Center Parking Ramp
To improve your entertainment experience, The Dow Event Center is in the process of renovating its parking structure across from venue. These capital improvements include repairing and replacing the elevators and lighting, and performing structural upgrades to the parking ramp.
While this is in progress, parking will be available at the following locations:
Dow Event Center front lot, 303 Johnson
400 lot across from The Dow Event Center, 400 Johnson
Dow Event Center Parking Ramp
Credit cards are now accepted!