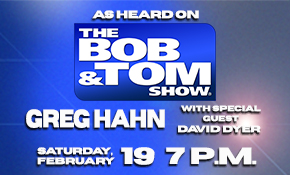 Greg Hahn with special guest David Dyer

Greg Hahn with Special Guest David Dyer
Saturday, February 19, 2022 at 7:00 p.m.  |  Doors at 6:00 p.m.
The Red Room At The Dow Event Center
CLICK HERE FOR IMPORTANT PRE-EVENT NOTES
CLICK HERE FOR VENUE COVID-19 POLICY & PROCEDURES
A favorite on the nationally syndicated Bob and Tom Radio Show, Greg has also appeared on Late Night with Conan O'Brien, Comedy Central, CBS, ABC, FOX, MTV and CMT. Greg Hahn has parlayed his absurdly energetic, all out style of physical humor, one liners and crowd work into a performance of immediate pandemonium and continuous laughs. His unique stylings have led to numerous television, corporate and theater appearances throughout the US and Canada.
He continually honed his style of comedy then headed to New York City. While in New York, Greg developed into a touring headliner and costarred in the independent film Tomorrow Night which premiered at the Sundance Film Festival. Then, after successful shows at the Montreal and Chicago Comedy Festivals, Greg enjoyed television appearances on Late Night with Conan O'Brien (NBC), Premium Blend (Comedy Central), Make Me Laugh (5 episodes, Comedy Central), Louis CK's Pulp Comics (Comedy Central), 30 Seconds to Fame (Fox), Cedric the Entertainer Presents (Fox) and Star Search (CBS).
When appearing on Star Search, Greg was spotted by Tom Griswold of the nationally syndicated Bob & Tom Radio Show. Greg has since established himself as a favorite guest on the show and starred on the Bob & Tom Comedy Central Special. He also headlines the Friends of The Bob & Tom Theater Tour, which included a stop at the Las Vegas Comedy Festival.
A return appearance to the Montreal Comedy Festival along with the Halifax Comedy Festival and wild appearances on Country Music Television's "Comedy Stage", "Comics Unleashed with Byron Allen" and running for president on "TOSH.O" (Comedy Central) have added to Greg's popularity.
David is a regular guest and guest host on "The Bob and Tom Show" (which is broadcast nationally out of Indianapolis) and a frequent member of their "Friends of the Bob and Tom Show Comedy Tour".  He's been performing stand-up at clubs and corporate events all over the country for the past twenty-two years….he ought to be pretty decent at it by now.
David has been performing stand-up at clubs and corporate events for over twenty years.  He's worked with some of the best comics in the industry including Mike Birbiglia, Jim Breuer, and Lewis Black.  He's been a contributing writer to NBC's "Late Night with Jimmy Fallon" and "ABC's Politically Incorrect".  He's a regular on the nationally syndicated "Bob and Tom Show" and frequently guest hosts multiple radio shows for Cumulus Broadcasting in Grand Rapids, MI.  You can also read David's articles on the satirical news website AbsrdComedy (www.absrdcomedy.com).
Venue Presale: Wednesday, November 17, 2021 at 10:00 a.m. – 10:00 p.m.
Venue Presale tickets will be available online only at Ticketmaster.com with the presale code.
On Sale: Thursday, November 18, 2021 at 10:00 a.m.
Tickets on sale to the general public will be available at Ticketmaster.com or in person only at The Dow Event Center Box Office. The Dow Event Center Box Office is currently open Thursdays 10:00 a.m. – 2:00 p.m. and Fridays 10:00 a.m. – 5:00 p.m. Please visit external window #2 during that time.
Ticket Prices: $34.00
*Additional fees may apply when purchased through Ticketmaster. Prices listed are when purchased in person at the Dow Event Center Box Office.
*Prices vary by seat location. Prices are subject to change based on supply and demand.
Improvements Coming To The Dow Event Center Parking Ramp
To improve your entertainment experience, The Dow Event Center is in the process of renovating its parking structure across from venue. These capital improvements include repairing and replacing the elevators and lighting, and performing structural upgrades to the parking ramp.
While this is in progress, parking will be available at the following locations:
Dow Event Center front lot, 303 Johnson
400 lot across from The Dow Event Center, 400 Johnson
Delta College Lot, corner of Jefferson and Johnson, .1 miles, 3 minute walk
Michigan Works, 312 E. Genesee, .3 miles, 6 minute walk
Credit cards are now accepted!