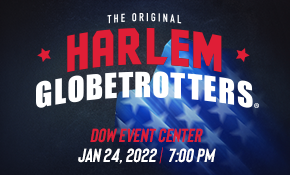 The Harlem Globetrotters

The Harlem Globetrotters
CLICK HERE FOR VENUE COVID-19 POLICY & PROCEDURES
CLICK HERE FOR IMPORTANT PRE-EVENT INFORMATION
The World-Famous Harlem Globetrotters are bringing their newly reimagined Spread Game tour to the Dow Event Center on January 24, 2022. The Harlem Globetrotters Spread Game Tour is a basketball experience like no other. Ankle breaking moves, jaw dropping swag, deeper than the three ball, we're talking about FOUR point shots. Plus, rim-rattling dunks. These ballers are putting on a show. And new to the Harlem Globetrotters family are some on-court characters guaranteed to energize the action and entertainment of every game. We're talking about laugh out loud funny. Get ready for world class basketball showmanship and full-court fun. Don't miss seeing the team the whole family will cheer for.
For more than 95 years, the Harlem Globetrotters organization has been committed to spreading joy through their artful athleticism and unparalleled basketball skill. The Globetrotters have always been global ambassadors of goodwill. The reimagined team is even more committed to bringing their voice to social justice conversations while inviting communities all over the U.S. to come together and recognize the power of our commonalities and celebrate our differences. The Globetrotters' mission, to spread game and bring family entertainment to the world, continues to drive them today.
The originators of basketball style, influencers on today's game, and skilled athletes of the highest order, the world-famous Harlem Globetrotters have showcased their iconic talents in 124 countries and territories on six continents since their founding in 1926. Proud inductees into the Naismith Memorial Basketball Hall of Fame, their mission to spread game and bring entertainment to the world continues to drive them today. The Globetrotters are innovators of the game who popularized the jump shot, slam dunk, and invented the half-court hook shot. For nearly a century, the Globetrotters have exhibited Black excellence on and off the court, entertaining, inspiring, and advancing the racial progress of today. The Harlem Globetrotters International, Inc. is a subsidiary of Herschend Enterprises, the largest family-owned themed entertainment company in the U.S. For more information about the Harlem Globetrotters, visit the Globetrotters' official website: www.harlemglobetrotters.com  and follow them on Twitter, Instagram, Facebook, and YouTube.
Venue Presale: Wednesday, October 13, 2021 at 10:00 a.m.
Venue Presale tickets will be available online only at Ticketmaster.com with the presale code. To receive the presale code, please sign up for our free email newsletter at https://bit.ly/2LC76Y2 or download our free mobile app and enable push notifications by Wednesday, October 13, 2021 at 9:59 a.m. Our mobile app is available to download on the App Store for IOS devices and on Google Play on Android devices. The Venue Presale code will be released via email when the presale begins (October 13th at approximately 10:00 a.m.).
On Sale: Tuesday, October 19, 2021 at 10:00 a.m.
Tickets on sale to the general public will be available at Ticketmaster.com or in person only at The Dow Event Center Box Office. Our box office is open every Thursday from 10:00 a.m. – 2:00 p.m. and Friday 10:00 a.m. – 5:00 p.m. Please visit external window #2 to purchase your tickets during that time.
Ticket Prices: $24.50  |  $29.50  |  $39.50  |  $49.50 |  $56.50  |  $80.50  |  $110.50
Groups 10+ Prices (sold only at the Box Office): $21.50  |  $23.50  |  $30.50  |  $38.50 |  $43.50  |  $66.50  |  $81.50
Magic Pass (must be purchased with a ticket): $20.00 (9 tickets or less)  |  $15.00 (10+ tickets)
Event takes place from 5:50-6:00PM. Calling all hoop lovers! This is your chance to show you've got GAME. Bring the fam and join the Harlem Globetrotters on the court before the game to shoot some hoops, show your skills, and get autographs and photos! The one-of-a-kind 3-minute pre-show, "Magic Pass," begins 90 minutes before tip-off and will create memories you'll never forget. All customers must have a game ticket AND Magic Pass for entry. This includes all children as well as the parent(s)/guardian(s) wishing to accompany them. Soft rubber soled shoes must be worn on court.
Celebrity Court Pass (upgrade must be purchased with a ticket): $100.00
The best game access for the biggest basketball fans. Your Court Pass gets you down to the floor for an up close and personal view of the Harlem Globetrotters during their pregame shootaround. You'll have exclusive access to the court, where you have the opportunity to see the players warm-up their World Record breaking shots and skills. Warm-ups begin 30 minutes before the game time and will last for 20 minutes. Check in courtside at the announcer's table upon arrival at the venue. Late arrivals will not be refunded. Children under 10 may not participate unaccompanied. Each person wanting to access the court must purchase the Celebrity Pass along with the main event ticket. This is an optional upgrade.
Player Meet & Greet (upgrade must be purchased with a ticket): $25.00
Before you see them on the court, this is your chance to meet them in person! A limited number of fans will have the opportunity to interact ONE-ON-ONE with some of your favorite Harlem Globetrotters stars. Get autographs, learn from players and take photos. Meet & Greet takes place prior to the game time. Please check-in courtside at the announcer's table immediately after doors open. Check-in will be open until 30 minutes prior to game time. Late arrivals are not permitted and will not be refunded. Children under 10 cannot participate unaccompanied. Each person must purchase the Meet & Greet add-on to be allowed entry into the Meet & Greet. This is an optional upgrade. A ticket to the MAIN event is also required.
*Additional fees may apply when purchased through Ticketmaster. Prices listed are when purchased in person at the Dow Event Center Box Office.
*Prices vary by seat location. Prices are subject to change based on supply and demand.
*Card subject to change
Improvements Coming To The Dow Event Center Parking Ramp
To improve your entertainment experience, The Dow Event Center is in the process of renovating its parking structure across from venue. These capital improvements include repairing and replacing the elevators and lighting, and performing structural upgrades to the parking ramp.
While this is in progress, parking will be available at the following locations:
Dow Event Center front lot, 303 Johnson
400 lot across from The Dow Event Center, 400 Johnson
Delta College Lot, corner of Jefferson and Johnson, .1 miles, 3 minute walk
Commerce Tower, 515 N. Washington, .3 miles, 6 minute walk
Michigan Works, 312 E. Genesee, .3 miles, 6 minute walk
Credit cards are now accepted!