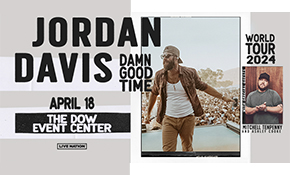 Jordan Davis with Special Guests Mitchell Tenpenny & Ashley Cooke

Jordan Davis with Special Guests Mitchell Tenpenny & Ashley Cooke
Thursday, April 18, 2024 at 7:00 p.m.
The Dow Event Center Arena
CLICK HERE FOR VENUE COVID-19 POLICY & PROCEDURES
MULTI-PLATINUM, 3X CMA NOMINEE JORDAN DAVIS EXTENDS HIS DAMN GOOD TIME HEADLINING TOUR WITH DATES ACROSS THE US, CANADA, AND EUROPE
The Award-Winning Artist's Headlining Tour, Which Initially Started August 31st In Atlanta, Adds Mitchell Tenpenny and Ashley Cooke As Support And Kicks Off February 2nd in Copenhagen, Denmark
Nashville, Tenn., October 9, 2023 –Multi-Platinum, CMA award-winning artist and current reigning CMA Song of the Year winner Jordan Davis today announced the extension of his sold-out DAMN GOOD TIME Tour, adding several additional dates across the US, Canada, the UK and Europe. Davis will kick off the tour February 2nd in Copenhagen, Denmark and visit several markets including Amsterdam, London, and Belfast, before returning to tour the US and Canada beginning in April. The announcement was made on the heels of his sold-out headlining dates this weekend in Philadelphia (10/5) and New York (10/6) as well as two sold out dates in Boston (10/7, 10/8). Tickets will be available through his fan club, The Parish, on Wednesday, October 11th before general on-sale via his website on Friday, October 13th, 10am local time. Having cemented himself at the "pinnacle of country music's mainstream" (The Tennessean), Davis is currently nominated for 3 CMA Awards including a back-to-back nomination for Song the Year.
Earlier this year Davis shared in his American Songwriter Cover story, "It has been an amazing feeling to watch the way this new music has reached fans, and we've been seeing that out on the road in the live shows. Our fans knew every lyric to 'Next Thing You Know' even before it was a single, and to watch the sold-out venues get bigger and bigger….I'm just so grateful everyone has been so supportive," adding, "The big thing for me was to show my growth. Growth in shows, growth in the songwriting, growth in the topics we're touching on. I really wanted to show how I've changed as an artist and a songwriter, for the better."
That growth has been reflected in his sold-out tour dates and upcoming European headlining run- where he will bring the DAMN GOOD TIME tour to Europe as a headliner for the first time and continue playing his largest venues to date, as well as in his second GOLD-certified album, Bluebird Days, which recently celebrated its third consecutive #1 single off the album with "Next Thing You Know." Featured by The Tennessean, Billboard, and more, Bluebird Days debuted to rave reviews, with  Billboard noting "Davis soars on 'Bluebird Days'" and Entertainment Focus echoing, "Jordan Davis comes of age on new album 'Bluebird Days' and shows the world the type of mature, meaningful and melodic songwriter he is." In addition to his 3X Platinum hit "Buy Dirt"-which garnered numerous accolades including Song of the Year at the CMA and NSAI awards and Billboard, AMA, iHeart and ACM award nominations, Jordan co-wrote most of the 17 tracks on the album, including the highly personal hits "What My World Spins Around" and "Next Thing You Know," with critics taking notice of his lyrical ability and "the way he summarizes life, love, family," notes Taste of Country,"..anyone …can be excused for feeling a bit breathless by the time he finishes what we're going to predict will be the 2023 CMA winner for Song of the Year."
To sign up for The Parish, Jordan Davis' official fan club, for first access to tickets at www.theparish.club.  For a full list of tour dates and ticket sales information, visit www.jordandavisofficial.com.
"Jordan Davis soars on 'Bluebird Days.'" –  Billboard
"…has earned comparisons of Davis to Keith Whitley" –The Tennessean
"It's not just the lyrics …it's the way he summarizes life, love, family ….so anyone …can be excused for feeling a bit breathless by the time he finishes what we're going to predict will be the 2023 CMA winner for Song of the Year." -Taste of Country
"…extraordinary consistency at the pinnacle of country music's mainstream." -The Tennessean
"Jordan Davis comes of age on new album 'Bluebird Days' and shows the world the type of mature, meaningful and melodic songwriter he is."-Entertainment Focus
"Jordan Davis gets vulnerable with new album 'Bluebird Days' "-The Tennessean
A native of Shreveport, Louisiana, Jordan Davis released his second full-length album, Bluebird Days in February 2023. Produced by Paul DiGiovanni, the GOLD-certified album features 17 songs including his sixth career No. 1 hit– the CMA Song of the Year nominated song "Next Thing You Know"– as well as his double-platinum multi-week #1's "What My World Spins Around" and "Buy Dirt" (feat. Luke Bryan), which won numerous accolades including CMA and NSAI Song of the Year and earned ACM, AMA, Billboard and iHeart Award nominations. Davis previously notched three consecutive No. 1 hits off of his Gold Certified album, Home State, including: "Singles You Up," "Take It From Me," and "Slow Dance In A Parking Lot." In 2019, Davis was awarded Best New Country Artist at the iHeartRadio Music Awards, and he is a two-time nominee for ACM New Male Artist of the Year and was named Billboard's Top New Country Artist of 2018. Davis has amassed more than 5 BILLION streams worldwide and appeared on Good Morning America, TODAY, The Tonight Show Starring Jimmy Fallon, Jimmy Kimmel Live, Late Night with Seth Meyers and more. In addition to his 2024 headlining run, he will also serve as direct support on Luke Combs' Stadium tour dates.
Mitchell is a multi-faceted entertainer: singer, songwriter, producer and performer. Since the release of his debut 3X platinum-certified No 1 hit single, "Drunk Me," he's set new standards for breakout success in country music. He was recognized for surpassing the One Billion streams threshold, now surpassing 1.5 Billion global streams. Mitchell's latest album This Is The Heavy contains the platinum-selling #1 hit "Truth About You," a song that made chart history with shortest span between #1 songs since 1982 with just three weeks since his last chart topper. "Truth About You" followed Mitchell's co-penned #1 collaboration with labelmate Chris Young on the ACM Music Event nominated "At The End Of A Bar." Mitchell's current radio single "We Got History" is making its way up the charts and he recently release a new digital song, "Bigger Mistakes," for his fans in time for his performances as the direct support act on Jason Aldean's "Highway Desperado Tour" this year. In addition to Jordan's tour, Mitchell will also guest on Luke Comb's "Growin' Up and Gettin' Old Tour" stadium dates in 2024.
With Big Loud / Back Blocks Music Country artist Ashley Cooke, it's best to know what you're getting into – because this emerging star is the definition of more than meets the eye. Still early in her journey, being herself has already served Cooke well, leading to over 200M global streams with chart climbing hits like "Never Til Now" with Brett Young, Ryman and Grand Ole Opry debuts, national TV appearances on ABC's The Bachelorette and NBC's TODAY, tours with Luke Bryan, Jordan Davis, Cole Swindell, Brett Young and more.  Hailing from Parkland, Fla. and moved by emotional hit makers like Taylor Swift, Rascal Flatts, Kelly Clarkson and more, Cooke embraces the energy of pop and depth of Country, writing her first song by age 11. Cooke moved to Nashville at 18 and attended the prestigious Belmont University – but unlike so many others, she did not study music. After entering the schools revered Country Showcase on a whim and winning, Cooke decided to pursue music for a year. When the pandemic had other plans, Cooke went to TikTok where she built a thriving fanbase, writing and sharing Country music on her own terms. And now, the next chapter begins with her debut album shot in the dark. Unfolding as if they were ripped from pages of her personal journal, Cooke's sun-kissed blend of two-lane pop Country is on full display in the collection's 24 tracks, inspired by true tales of love, heartbreak and all the moments in between. Fully capturing the essence of a daring twenty-something growing up, chasing her dreams and taking risks, Cooke infuses heartfelt lyrics, captivating melodies and raw relatability as she invites listeners to come along for the ride. The striking debut has already garnered Cooke praise from Billboard who named her the July 2023 Rookie of the Month, with additional praise pouring in from People, American Songwriter, The Tennessean and more. Cooke went on to be named MusicRow's 2023 Discovery Artist of the Year.
Venue Presale: Thursday, October 12, 2023 10:00 a.m – 10:00 p.m.
Venue Presale tickets will be available online only at Ticketmaster.com with the presale code. To receive the presale code, please sign up for our free email newsletter at https://bit.ly/2LC76Y2 by Wednesday, October 11, 2023 at 11:59 p.m or download our free mobile app and enable push notifications by Thursday, October 12, 2023 at 9:59 a.m. Our mobile app is available to download on the App Store for iOS devices and on Google Play on Android devices. The Venue Presale code will be released via email when the presale begins (October 12th at approximately 10:00 a.m.).
On Sale: Friday, October 13, 2023 at 10:00 a.m.
Tickets on sale to the general public will be available at Ticketmaster.com or in person only at The Dow Event Center Box Office. Our box office is open every Thursday from 10:00 a.m. – 2:00 p.m. and Friday 10:00 a.m. – 5:00 p.m. Please visit internal window #10 to purchase your tickets during that time.
Ticket Prices:  $40.00  |  $60.00  |  $90.50  |  $100.50
*Additional fees may apply when purchased through Ticketmaster. Prices listed are when purchased in person at the Dow Event Center Box Office.
*Prices vary by seat location. Prices are subject to change based on supply and demand.
Improvements Coming To The Dow Event Center Parking Ramp
To improve your entertainment experience, The Dow Event Center is in the process of renovating its parking structure across from venue. These capital improvements include repairing and replacing the elevators and lighting, and performing structural upgrades to the parking ramp.
While this is in progress, parking will be available at the following locations:
Dow Event Center front lot, 303 Johnson
400 Lot across from The Dow Event Center, 400 Johnson
Dow Event Center Parking Ramp
Credit cards are now accepted!