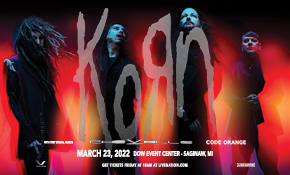 KOЯN

KOЯN with Very Special Guests Chevelle & Code Orange
Wednesday, March 23, 2022 at 6:30 p.m.
The Dow Event Center Arena
CLICK HERE FOR AN IMPORTANT PRE-EVENT NOTE
Venue Presale: Thursday, December 16, 2021 at 10:00 a.m. – 10:00 p.m.
Venue Presale tickets will be available online only at Ticketmaster.com with the presale code. To receive the presale code, please sign up for our free email newsletter at https://bit.ly/2LC76Y2 or download our free mobile app and enable push notifications by Thursday, December 16, 2021 at 9:59 a.m. Our mobile app is available to download on the App Store for IOS devices and on Google Play on Android devices. The Venue Presale code will be released via email when the presale begins (December 17 at approximately 10:00 a.m.).
Since forming, KORN has sold 40 million albums worldwide, collected two GRAMMYS, toured the world countless times, and set many records in the process that will likely never be surpassed. Vocalist Jonathan Davis, guitarists James "Munky" Shaffer and Brian "Head" Welch, bassist Reginald "Fieldy" Arvizu, and drummer Ray Luzier, have continued to push the limits of the rock, alternative and metal genres, while remaining a pillar of influence for legions of fans and generations of artists around the globe.  The level of KORN's reach transcends accolades and platinum certifications.  They are "a genuine movement in a way bands cannot be now," attests The Ringer.  They represent a new archetype and radical innovation, their ability to transcend genre makes barriers seem irrelevant.
After more than two decades together, numerous top-charting releases, and countless worldwide tours, CHEVELLE—the outfit consisting of brothers Pete Loeffler [guitars, vocals], Sam Loeffler [drums]—have confidently sailed through decades of uncharted waters and have emerge with a sound that is equally intricate as it is intimate. Now, the understated musical powerhouse, who have consistently delivered rock anthems, unleashed their ninth full length album, NIRATIAS, on March 5th, 2021.
With no signs of this Chicago alternative rock staple slowing down, their numerous chart topping releases have certainly earned this band their place in American rock music history. NIRATIAS will be sure to add another chapter to the extensive catalog of this successful music career.
Mask wearing will be encouraged. Entry requirements are subject to change.
On Sale: Friday, December 17, 2021 at 9:00 a.m.
Tickets on sale to the general public will be available at Ticketmaster.com or in person only at The Dow Event Center Box Office. Our box office is open every Thursday from 10:00 a.m. – 2:00 p.m. and Friday 10:00 a.m. – 5:00 p.m. Please visit external window #2 to purchase your tickets during that time.
Ticket Prices:  $49.50  |  $59.50  |  $79.50  |  $105.00
*Additional fees may apply when purchased through Ticketmaster. Prices listed are when purchased in person at the Dow Event Center Box Office.
*Prices vary by seat location. Prices are subject to change based on supply and demand.
Improvements Coming To The Dow Event Center Parking Ramp
To improve your entertainment experience, The Dow Event Center is in the process of renovating its parking structure across from venue. These capital improvements include repairing and replacing the elevators and lighting, and performing structural upgrades to the parking ramp.
While this is in progress, parking will be available at the following locations:
Dow Event Center front lot, 303 Johnson
400 lot across from The Dow Event Center, 400 Johnson
Delta College Lot, corner of Jefferson and Johnson, .1 miles, 3 minute walk
Michigan Works, 312 E. Genesee, .3 miles, 6 minute walk
Credit cards are now accepted!