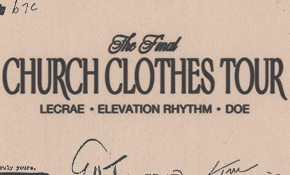 CANCELLED Lecrae – The Final Church Clothes Tour
Date May 2,2023 ,Tuesday, 7:00 pm

Lecrae: The Final Church Clothes Tour
Tuesday, May 2, 2023 at 7:00 p.m.  |  Doors at 6:00 p.m.
The Red Room At The Dow Event Center
CLICK HERE FOR VENUE COVID-19 POLICY & PROCEDURES
Before the Grammys, before releasing the #1 Album in the country (Anomaly, 2014), Lecrae dropped arguable the most seminal project in his catalog, Church Clothes. XXL said, "It's impressive how he's able to deliver a message without being preachy", calling Church Clothes "a prime example of the reach of hip-hop music and culture." The people spoke even louder downloading the project 100,000 times in 48 hours. People rocked with the mixtape because it was the first time someone planted their feet simultaneously in the streets and the Church without compromising.
10 years and two more entries later (CC2, and CC3), it becomes crystal clear that while Lecrae didn't start Christian Hip-Hop (CHH), it's his lane. In the 10 years since Church Clothes originally dropped no one has been able to keep a consistent focus on sincere Christianity and authentic Hip-Hop representation while enjoying the heights and enduring the lows like Crae.
On Church Clothes 4, the mission remains the same for rapper, CEO, New York Times Best-Selling author, investor, and activist: To represent faith and Hip-Hop with an Unashamed edge that challenges the Church to live up to its potential and encourages the Culture to reconcile with its Savior. In this entry, Lecrae gives his listeners an opportunity to see what it looks like to reconstruct a vision of faith despite the large-scale shift toward mistrust and disillusionment with Christianity in the wake of America's racial tensions.
Venue Presale: Thursday, January 19, 2023 at 10:00 a.m. – 10:00 p.m.
Venue Presale tickets will be available online only at Ticketmaster.com with the presale code. To receive the presale code, please sign up for our free email newsletter at https://bit.ly/2LC76Y2 or download our free mobile app and enable push notifications by Thursday, January 19 at 9:59 a.m. Our mobile app is available to download on the App Store for IOS devices and on Google Play on Android devices. The Venue Presale code will be released via email when the presale begins (January 19 at approximately 10:00 a.m.).
On Sale: Friday, January 20, 2023 at 10:00 a.m.
Tickets on sale to the general public will be available at Ticketmaster.com or in person only at The Dow Event Center Box Office. The Dow Event Center Box Office is currently open Thursdays 10:00 a.m. – 2:00 p.m. and Fridays 10:00 a.m. – 5:00 p.m. Please visit internal window #10 during that time.
General Admission Ticket Price: $32.00
VIP 1: $252.00
VIP 2: $102.00
Group Rate: $28.00 per ticket
*Additional fees may apply when purchased through Ticketmaster. Prices listed are when purchased in person at the Dow Event Center Box Office.
*Prices vary by seat location. Prices are subject to change based on supply and demand.
Improvements Coming To The Dow Event Center Parking Ramp
To improve your entertainment experience, The Dow Event Center is in the process of renovating its parking structure across from venue. These capital improvements include repairing and replacing the elevators and lighting, and performing structural upgrades to the parking ramp.
While this is in progress, parking will be available at the following locations:
Dow Event Center front lot, 303 Johnson
400 lot across from The Dow Event Center, 400 Johnson
Dow Event Center Parking Ramp
 
Credit cards are now accepted!