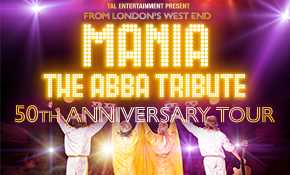 MANIA: The ABBA Tribute

MANIA – The ABBA Tribute
Thursday, January 4, 2024 at 7:30 p.m.
The Dow Event Center Theater
CLICK HERE FOR VENUE COVID-19 POLICY & PROCEDURES
MANIA-The ABBA TRIBUTE
From London's West End to Saginaw, MANIA the ABBA tribute is headlining the Dow Event Center Thursday, January 4, 2024! Experience Mania: The ABBA Tribute live at the Dow Event Center Theater Thursday, January 4, 2024
!In an exhilarating, two-hour recreation of one ofABBA's most memorable concerts, MANIA brings to life the flamboyance of the'70s. This includes all of the uplifting, dance-inducing and sometimes heart-breaking songs from the iconic Swedish band, with fantastic costumes, staging, lighting and effects.
MANIA recently toured theUnited States for the 10th time with an impressive 37-date national tour, selling over 50,000 tickets and visiting18 states.
For lifelong ABBA fans, as well as new generations who never had the opportunity to see the band live, MANIA provides the perfect excuse to party, relive memories and simply feel entertained with the best music ever. So dig out those platforms, dust down those flares and enjoy all your favorite hits, including"Mamma Mia," "Voulez Vous," "Dancing Queen," "Winner Takes It All," "Waterloo," "Fernando," "Super Trouper" and many more!
Take A Chance On MANIA……and you won't be disappointed!
The world's number one touring ABBA tribute returns to your very own The Dow Event Center on January 4, 2024. MANIA formed in 1999 and the show has been selling out theatres and concert halls internationally ever since.
This year the iconic Swedish pop group is celebrating the 50th anniversary of their breakthrough hit single "Waterloo" and MANIA can't wait to share the joy of this huge milestone!
Mania the ABBA Tribute has successfully toured every continent in the world and has played over 3,000 live concerts in over 35 countries. Recent highlights included a second run in London's West End where the show performed for a month in the iconic Shaftesbury Theatre, London in May 2021. The show also enjoyed an 80-date sell-out USA National tour in 2022/2023, Mania continues in its quest to bring the music of the Swedish 'Supergroup' to millions of fans, old and new!
Featuring an extraordinary cast of talented musicians and performers, Mania: The ABBA Tribute delivers an authentic and unforgettable tribute to the legendary Swedish band that has captured the hearts of fans for generations. With stunning costumes, energetic choreography, and impeccable musicianship, Mania: The ABBA Tribute recreates the magic of ABBA's music in all its glory. From "Dancing Queen" to "Waterloo," "Mamma Mia" to "Take a Chance on Me," the band performs all of ABBA's greatest hits with passion and precision, transporting audiences back to the disco era of the 1970s.
The upcoming tour promises to be an unforgettable experience for fans of ABBA and lovers of great music. With stunning visuals, electrifying performances, and all of ABBA's greatest hits, Mania: The ABBA Tribute is a hit with audiences worldwide and Maniacs who return every year!
If you're looking for an excuse to party, reminisce or simply be entertained by the best music ever, then call The Dow Event Center box office or visit www.doweventcenter.com/mania/
"Beware of imitations…this is the real musical tribute!" – Polly Graham, Sunday Mirror
Venue Presale: Wednesday, May 17, 2023 at 10:00 a.m. –  Thursday, May 18, 2023 at 10:00 p.m.
Venue Presale tickets will be available online only at Ticketmaster.com with the presale code. To receive the presale code, please sign up for our free email newsletter at https://bit.ly/2LC76Y2 by Wednesday, March 1, 2023 at 11:59 p.m or download our free mobile app and enable push notifications by Wednesday, May 17, 2023 at 9:59 a.m. Our mobile app is available to download on the App Store for iOS devices and on Google Play on Android devices. The Venue Presale code will be released via email when the presale begins (May 16 at approximately 10:00 a.m.).
On Sale: Friday, May 19, 2023 at 10:00 a.m.
Tickets on sale to the general public will be available at Ticketmaster.com or in person only at The Dow Event Center Box Office. Our box office is open every Thursday from 10:00 a.m. – 2:00 p.m. and Friday 10:00 a.m. – 5:00 p.m. Please visit internal window #10 to purchase your tickets during that time.
Ticket Prices:  $25.00  |  $35.00  |  $45.00  |  $55.00  |  $65.00
*Additional fees may apply when purchased through Ticketmaster. Prices listed are when purchased in person at the Dow Event Center Box Office.
*Prices vary by seat location. Prices are subject to change based on supply and demand.
Improvements Coming To The Dow Event Center Parking Ramp
To improve your entertainment experience, The Dow Event Center is in the process of renovating its parking structure across from venue. These capital improvements include repairing and replacing the elevators and lighting, and performing structural upgrades to the parking ramp.
While this is in progress, parking will be available at the following locations:
Dow Event Center front lot, 303 Johnson
400 Lot across from The Dow Event Center, 400 Johnson
Dow Event Center Parking Ramp
Credit cards are now accepted!