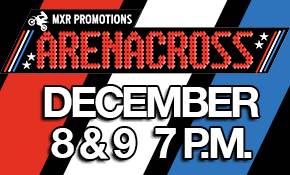 MXR Presents ARENACROSS

MXR Presents ARENACROSS
Friday, December 8, 2023 at 7:00 p.m.
The Dow Event Center Arena
CLICK HERE FOR VENUE COVID-19 POLICY & PROCEDURES
CLICK HERE FOR CLEAR BAGS AND CASHLESS POLICY
CLICK HERE FOR TICKETS TO SATURDAY, DECEMBER 9 EVENT
MXR Promotions Arenacross is an exhilarating and adrenaline-pumping motorsport event that brings the thrill of off-road racing to the forefront. This action-packed series is a testament to the passion for dirt biking and motocross, designed to captivate both enthusiasts and newcomers to the sport alike.
MXR Promotions Arenacross showcases an array of top-tier athletes, including professional motocross riders and daring amateurs, who compete on compact, technical indoor tracks. These tracks are meticulously crafted with challenging obstacles, such as jumps, whoops, and sharp turns, to test the riders' skills and push their limits. Spectators can expect heart-pounding moments as the racers maneuver through tight corners and soar through the air, executing gravity-defying stunts.
The event's electrifying atmosphere is further enhanced by the roaring engines, the thunderous applause of the crowd, and the stunning displays of speed, precision, and fearlessness from the riders. MXR Promotions Arenacross is not just a race; it's a spectacle that combines sport and entertainment, appealing to fans of all ages.
This series isn't only about competition; it's also a platform for up-and-coming riders to showcase their talent and gain recognition in the motocross world. It fosters a spirit of camaraderie among riders, creating a vibrant community dedicated to the sport.
MXR Promotions Arenacross events are family-friendly, making it an ideal outing for motocross aficionados, families, and thrill-seekers. Whether you're a rider, a fan, or just someone looking for a heart-pounding experience, MXR Promotions Arenacross offers an unforgettable day of high-speed action and remarkable displays of skill. It's where motocross dreams come to life, and where the spirit of competition meets the roar of the crowd.
Venue Presale: Thursday, October 5 at 10:00 a.m. – 10:00 p.m.
Venue Presale tickets will be available online only at Ticketmaster.com with the presale code. To receive the presale code, please sign up for our free email newsletter at https://bit.ly/2LC76Y2 by Wednesday, October 4, 2023 at 11:59 p.m or download our free mobile app and enable push notifications by Thursday, October 5, 2023 at 9:59 a.m. Our mobile app is available to download on the App Store for iOS devices and on Google Play on Android devices. The Venue Presale code will be released via email when the presale begins (October 5 at approximately 10:00 a.m.).
Tickets go on sale at the box office on Monday, October 16 at 10 a.m.
Ticket Prices: $28.50 | $38.50
Kids Ticket Prices: $18.50 | $38.50
Groups 10+ Ticket Prices: $25.50 | $38.50
Improvements Coming To The Dow Event Center Parking Ramp
To improve your entertainment experience, The Dow Event Center is in the process of renovating its parking structure across from venue. These capital improvements include repairing and replacing the elevators and lighting, and performing structural upgrades to the parking ramp.
While this is in progress, parking will be available at the following locations:
Dow Event Center front lot, 303 Johnson
400 lot across from The Dow Event Center, 400 Johnson
Dow Event Center Parking Ramp
Credit cards are now accepted!