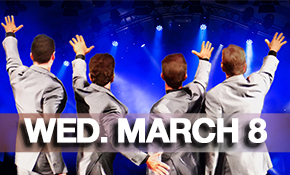 Oh What A Night – A Musical Tribute to Frankie Valli and the Four Seasons

Oh What A Night! A Musical Tribute to Frankie Valli and the Four Seasons

Wednesday, March 8, 2023 at 7:00 p.m.  |  Doors at 6:00 p.m.

The Red Room At The Dow Event Center
CLICK HERE FOR SECURITY, PROHIBITED ITEMS & ADDITIONAL EVENT INFO
NASHVILLE, Tenn. – Rocklands Entertainment in collaboration with Las Vegas-based Chapquist Entertainment is excited to announce their 20-stop United States tour of the hit show OH WHAT A NIGHT! A Musical Tribute to Frankie Valli & The Four Seasons kicking off in Michigan on March 7th.
OH WHAT A NIGHT! is a blockbuster musical review conceived and directed by award-winning Broadway producer-director Michael Chapman; written by Motown producer George Solomon; and choreographed by critically acclaimed choreographer Paul Holmquist.
"The thing that distinguishes OH WHAT A NIGHT! from other tribute shows is that the audience feels like they get a chance to know our performers intimately as we're not doing an impersonation of FRANKIE VALLI & THE FOUR SEASONS", shares producer/director Michael Chapman.
In addition to having appeared to sold-out audiences at prestigious theatres, arenas, and showrooms throughout the United States, and to having been featured for over ten years on Norwegian Cruise Line the show also performed every week for over seven consecutive years on NCL's Pride of America sailing the Hawaiian Islands. The show's International appearances have included numerous tours of Canada, Australia, New Zealand, the UK, Guam, and Malaysia… with more to come. OH WHAT A NIGHT! can currently be seen on Royal Caribbean Cruise Line.
If you love the music of FRANKIE VALLI & THE FOUR SEASONS and JERSEY BOYS, you won't want to miss OH WHAT A NIGHT! It's more than just a tribute. It's more than just a concert. It's a flashy all-around feel-good experience that leaves audiences on their feet Beggin' for more.
Celebrating the hits of FRANKIE VALLI & THE FOUR SEASONS, who were inducted into the Rock And Roll Hall of Fame in 1990, OH WHAT A NIGHT! offers a roller coaster ride of emotions featuring extraordinarily talented singer/dancers, comedy, and informative stories like no other. It features all of the original hits as well as many not included in Broadway's Tony award-winning musical JERSEY BOYS as well as Valli's biggest solo hit from the movie GREASE. While taking fans on a musical journey down memory lane, each performer brings to life a high-energy theatrical event that remains authentic throughout the show.
OH WHAT A NIGHT! is an intimate, family-friendly concert and celebration of one of the most enduring pop musical icons of our time, FRANKIE VALLI & THE FOUR SEASONS. Delighting audiences of all ages since it originally premiered in Las Vegas, the show always leaves the audience exclaiming OH WHAT A NIGHT!
For further information on the show please visit OhWhatANightTribute.com
Venue Presale: Thursday, January 19, 2023 at 10:00 a.m. – 10:00 p.m.
Venue Presale tickets will be available online only at Ticketmaster.com with the presale code. To receive the presale code, please sign up for our free email newsletter at https://bit.ly/2LC76Y2 by Wednesday, January 19, 2023 at 11:59 p.m. The Venue Presale code will be released via email when the presale begins (January 19 at approximately 10:00 a.m.).
On Sale: Friday, January 20, 2023 at 10:00 a.m.
Tickets on sale to the general public will be available at Ticketmaster.com, Ticketmaster by phone 1-800-745-3000 or in person only at The Dow Event Center Box Office.
Ticket Prices: $52.50
*Additional fees may apply when purchased through Ticketmaster. Prices listed are when purchased in person at the Dow Event Center Box Office.
*Prices vary by seat location. Prices are subject to change based on supply and demand.
Improvements Coming To The Dow Event Center Parking Ramp
To improve your entertainment experience, The Dow Event Center is in the process of renovating its parking structure across from venue. These capital improvements include repairing and replacing the elevators and lighting, and performing structural upgrades to the parking ramp.
While this is in progress, parking will be available at the following locations:
Dow Event Center front lot, 303 Johnson
400 lot across from The Dow Event Center, 400 Johnson
Dow Event Center Parking Ramp
Credit cards are now accepted!