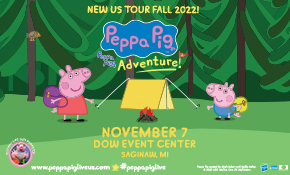 Peppa Pig's Adventure

Peppa Pig

Monday, November 7 at 6:00 p.m.  |  Doors Open at 5:00 p.m.
The Dow Event Center Theater

CLICK HERE FOR VENUE COVID-19 POLICY & PROCEDURES
Come join Peppa Pig on an exciting camping trip in the woods with George and her school friends, including Pedro Pony, Suzy Sheep and Gerald Giraffe. With lunchboxes packed and Daddy Pig driving the bus, Peppa and friends are excited about their outdoor adventures, full of singing, dancing, games and surprises. Little piggies everywhere will love this 60-minute live musical experience!
Venue Presale: Thursday, August 18 at 10:00 a.m. – 10:00 p.m.
Venue Presale tickets will be available online only at Ticketmaster.com with the presale code. To receive the presale code, please sign up for our free email newsletter at https://bit.ly/2LC76Y2 or download our free mobile app and enable push notifications by Thursday, August 18 at 9:59 a.m. Our mobile app is available to download on the App Store for iOS devices and on Google Play for Android devices. The Venue Presale code will be released via email when the presale begins (August 18 at approximately 10:00 a.m.).
On Sale: Friday, August 19 at 10:00 a.m.
Tickets on sale to the general public will be available at Ticketmaster.com or in person only at The Dow Event Center Box Office. Our box office is open every Thursday from 10:00 a.m. – 2:00 p.m. and Friday 10:00 a.m. – 5:00 p.m. Please visit internal window #10 to purchase your tickets during that time.
Ticket Prices:  $28.50  |  $38.50  |  $48.50  |  $68.50
*Additional fees may apply when purchased through Ticketmaster. Prices listed are when purchased in person at the Dow Event Center Box Office.
*Prices vary by seat location. Prices are subject to change based on supply and demand.
*Children under 2 years of age are free but will be required to sit on the lap of an adult.
*Children 12 years of age and under must be accompanied by a parent/guardian.
Post-Show Photo Experience Upgrade: $50.00
Make the most of your experience with the Peppa Pig Photo Experience. This one-of-a-kind Photo Experience allows you and your family to experience a unique photo opportunity with the characters of Peppa Pig shortly after the show. Each Adult and each Child 2 & up will need a Photo Experience ticket and an Event Ticket to attend.
*Event ticket is not included in the Photo Experience upgrade.

*Each child and parent/guardian must have an event ticket and a Photo Experience upgrade to gain access to the after-show Photo Experience.

*Be sure to bring your camera to capture every moment! Professional cameras are not permitted – those with detachable lenses.

Improvements Coming To The Dow Event Center Parking Ramp
To improve your entertainment experience, The Dow Event Center is in the process of renovating its parking structure across from venue. These capital improvements include repairing and replacing the elevators and lighting, and performing structural upgrades to the parking ramp.
While this is in progress, parking will be available at the following locations:
Dow Event Center front lot, 303 Johnson
400 lot across from The Dow Event Center, 400 Johnson
Dow Event Center Parking Ramp
Credit cards are now accepted!