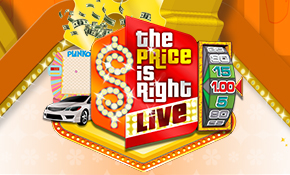 The Price Is Right Live On Stage

The Price Is Right Live On Stage

Saturday, October 22, 2022 at 8:00 p.m.  |  Doors at 7:00 p.m. | Contestant Registration at 4:00 p.m. Day of Show
The Dow Event Center Theater
CLICK HERE FOR VENUE COVID-19 POLICY & PROCEDURES
CLICK HERE FOR PRE-EVENT NOTES
The Price Is Right Live™ is the hit interactive stage show that gives eligible individuals the chance to hear their names called and "Come On Down" to win.  Prizes may include appliances, vacations and possibly a new car! Play classic games just like on television's longest running and most popular game show…from Plinko™ to Cliffhangers™ to The Big Wheel™ and even the fabulous Showcase.
Playing to near sold-out audiences for more than 14 years, the Price Is Right Live™ has entertained millions of guests and given away more than 12 million dollars in cash and prizes.
If you're a fan of The Price Is Right™ on TV, you'll no doubt love this exciting, live (non-televised), on-stage version of the show!
Registration takes place on the day of the show, starting at 4 p.m. Registration closes at showtime. Tickets and non-ticketed guests are allowed to register for a chance to be selected as contestants. Patrons may be required to show valid government issued photo identification at registration. Must be over 18 years old. Venue staff and immediate family members are not eligible to play.
Venue Presale: Thursday, June 23, 2022 at 10:00 a.m. –  10:00 p.m.
Venue Presale tickets will be available online only at Ticketmaster.com with the presale code. To receive the presale code, please sign up for our free email newsletter at https://bit.ly/2LC76Y2 or download our free mobile app and enable push notifications by Wednesday, June 22, 2022 at 11:59 p.m. Our mobile app is available to download on the App Store for IOS devices and on Google Play on Android devices. The Venue Presale code will be released via email when the presale begins (June 23rd at approximately 10:00 a.m.).
On Sale: Friday, June 24, 2022 at 10:00 a.m.
Tickets on sale to the general public will be available at Ticketmaster.com or in person only at The Dow Event Center Box Office. The Dow Event Center Box Office is open Thursdays 10:00 a.m. – 2:00 p.m. and Fridays 10:00 a.m. – 5:00 p.m. Please visit internal window #10 during that time.
Ticket Prices: $48.00  |  $58.00
*Additional fees may apply when purchased through Ticketmaster. Prices listed are when purchased in person at the Dow Event Center Box Office.
*Prices vary by seat location. Prices are subject to change based on supply and demand.
*8 ticket limit per purchase.
Improvements Coming To The Dow Event Center Parking Ramp
To improve your entertainment experience, The Dow Event Center is in the process of renovating its parking structure across from venue. These capital improvements include repairing and replacing the elevators and lighting, and performing structural upgrades to the parking ramp.
While this is in progress, parking will be available at the following locations:
Dow Event Center front lot, 303 Johnson
400 lot across from The Dow Event Center, 400 Johnson
Credit cards are now accepted!