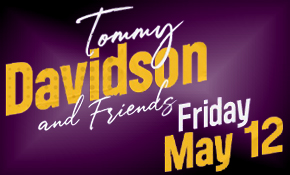 Tommy Davidson & Friends

Tommy Davidson and Friends
Friday, May 12, 2023 at 7:00 p.m.
The Red Room
CLICK HERE FOR VENUE COVID-19 POLICY & PROCEDURES
On Friday, May 12th, 2023, Man About Change Inc, The LiveWaves App and Mobile Network 1 are bringing comedy legend Tommy Davidson to Saginaw, Michigan. Tommy Davidson is known for his tremendous stand-up comedy, as well as appearing on shows like "In Living Color", "Between Brothers", "The Ms. Pat Show" and "Malcolm & Eddie". He has also been featured in animated shows like "The Proud Family", "Lilo & Stitch", "The Ren & Stimpy Show". Tommy is also famous for his hilarious roles in movies like, "Booty Call", "Woo", "Juwanna Mann", "Black Dynamite" and "Ace Ventura: When Nature Calls". Tommy is a comedy giant, and also has recorded a jazz album in 2022 with Dave Koz. This will be his first time performing in Mid-Michigan in over 20 years.
Tickets on sale to the general public will be available at Ticketmaster.com or in person only at The Dow Event Center Box Office. Our box office is open every Thursday from 10:00 a.m. – 2:00 p.m. and Friday 10:00 a.m. – 5:00 p.m. Please visit internal window #10 to purchase your tickets during that time.
Ticket Prices:  $23.00  |  $33.00  |  $53.00
*Additional fees may apply when purchased through Ticketmaster. Prices listed are when purchased in person at the Dow Event Center Box Office.
*Prices vary by seat location. Prices are subject to change based on supply and demand.
Improvements Coming To The Dow Event Center Parking Ramp
To improve your entertainment experience, The Dow Event Center is in the process of renovating its parking structure across from venue. These capital improvements include repairing and replacing the elevators and lighting, and performing structural upgrades to the parking ramp.
While this is in progress, parking will be available at the following locations:
Dow Event Center front lot, 303 Johnson
400 Lot across from The Dow Event Center, 400 Johnson
Dow Event Center Parking Ramp
Credit cards are now accepted!