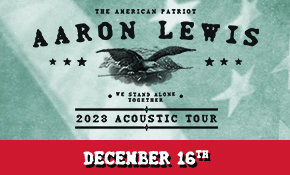 Aaron Lewis RESCHEDULED: DECEMBER 16, 2023

Aaron Lewis – RESCHEDULED
Saturday, December 16 2023 at 7:00 p.m.
The Dow Event Center Theater
CLICK HERE FOR VENUE COVID-19 POLICY & PROCEDURES
Due to impending weather and to keep everyone safe, the Aaron Lewis show scheduled for Thursday, February 23rd at the Dow Event Center in Saginaw, MI is now being held on  December 16th.  Previously purchased tickets will be honored at the new date.  If you are unable to attend the new date please reach out to your point of purchase for a full refund.
Aaron Lewis grew up in Springfield, Vermont, listening to his grandparents' country 8-tracks. Those roots inspired the multi-platinum Staind founder to return to his origins for the #1 Billboard Country Album debut Town Line and Sinner, as well as Billboard's #1 Hot Country Song debut "Am I The Only One," only the 9th time since 1958.
Having recorded with George Jones, Willie Nelson, Charlie Daniels, Alison Krauss and Vince Gill, Lewis has put a traditionalist brand on his outlier country. His latest album, Frayed At Both Ends, offers the hard touring/15-million selling workingman's country star at his most personal and unplugged – making for an intimate record that reflects his 2023 acoustic tour.
Venue Presale: Thursday, November 17, 2022 at 10:00 a.m. –  10:00 p.m.
Venue Presale tickets will be available online only at Ticketmaster.com with the presale code. To receive the presale code, please sign up for our free email newsletter at https://bit.ly/2LC76Y2 by Wednesday, November 16, 2022 at 11:59 p.m or download our free mobile app and enable push notifications by Thursday, November 17, 2022 at 9:59 a.m. Our mobile app is available to download on the App Store for iOS devices and on Google Play on Android devices. The Venue Presale code will be released via email when the presale begins (November 17th at approximately 10:00 a.m.).
On Sale: Friday, November 18, 2022 at 10:00 a.m.
Tickets on sale to the general public will be available at Ticketmaster.com or in person only at The Dow Event Center Box Office. Our box office is open every Thursday from 10:00 a.m. – 2:00 p.m. and Friday 10:00 a.m. – 5:00 p.m. Please visit internal window #10 to purchase your tickets during that time.
Ticket Prices:  $35.00  |  $55.00  |  $75.00  |  $85.00
*Additional fees may apply when purchased through Ticketmaster. Prices listed are when purchased in person at the Dow Event Center Box Office.
*Prices vary by seat location. Prices are subject to change based on supply and demand.
Improvements Coming To The Dow Event Center Parking Ramp
To improve your entertainment experience, The Dow Event Center is in the process of renovating its parking structure across from venue. These capital improvements include repairing and replacing the elevators and lighting, and performing structural upgrades to the parking ramp.
While this is in progress, parking will be available at the following locations:
Dow Event Center front lot, 303 Johnson
400 Lot across from The Dow Event Center, 400 Johnson
Dow Event Center Parking Ramp
Credit cards are now accepted!