Baby Shark Live!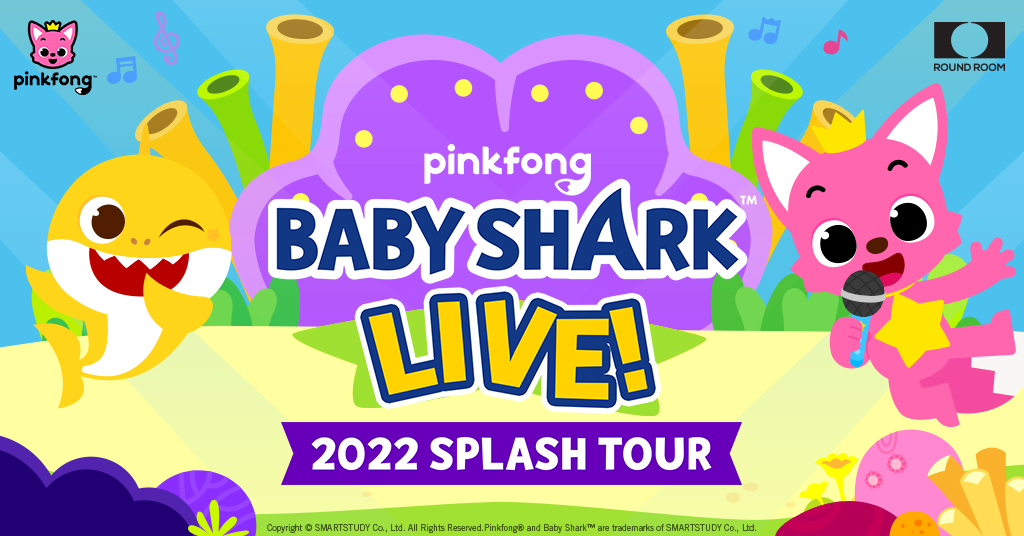 Baby Shark Live!

Friday, April 8 at 6:00 p.m.  |  Doors Open at 5:00 p.m.
The Dow Event Center Theater

CLICK HERE FOR IMPORTANT PRE-EVENT INFORMATION
CLICK HERE FOR VENUE COVID-19 POLICY & PROCEDURES
Pinkfong and Round Room Live are proud to announce that Baby Shark Live!, a brand new, fully immersive concert experience, is coming to Saginaw on April 8, 2022. The live show is based on Pinkfong's viral earworm and global dance phenomenon, 'Baby Shark'. This one of a kind concert experience will delight fans of all ages as Baby Shark joins up with his friend, Pinkfong, to take an adventure into the sea, singing and dancing through new and classic songs including Five Little Monkeys, Wheels on the Bus, Jungle Boogie, Monkey Banana Dance and of course, Baby Shark!
Baby Shark, Pinkfong's global hit song about a family of sharks, has climbed the charts and connected with fans around the globe. After entering the Billboard Hot 100 at #32, the song has been recording a 14-week streak in the Top 50, while topping the Kids Digital Song Sales Chart as #1. The Baby Shark dance video has more than 10 billion views, making it the most viewed video in the history of YouTube.
Venue Presale: Thursday, February 17 at 10:00 a.m. – 10:00 p.m.
Venue Presale tickets will be available online only at Ticketmaster.com with the presale code. To receive the presale code, please sign up for our free email newsletter at https://bit.ly/2LC76Y2 or download our free mobile app and enable push notifications by Thursday, January 20 at 9:59 a.m. Our mobile app is available to download on the App Store for iOS devices and on Google Play for Android devices. The Venue Presale code will be released via email when the presale begins (December 17 at approximately 10:00 a.m.).
On Sale: Friday, February 18 at 10:00 a.m.
Tickets on sale to the general public will be available at Ticketmaster.com or in person only at The Dow Event Center Box Office. Our box office is open every Thursday from 10:00 a.m. – 2:00 p.m. and Friday 10:00 a.m. – 5:00 p.m. Please visit internal window #10 to purchase your tickets during that time.
Ticket Prices:  $27.50  |  $37.50  |  $47.50  |  $67.50
*Additional fees may apply when purchased through Ticketmaster. Prices listed are when purchased in person at the Dow Event Center Box Office.
*Prices vary by seat location. Prices are subject to change based on supply and demand.
*Children under 2 years of age are free but will be required to sit on the lap of an adult.
*Children 12 years of age and under must be accompanied by a parent/guardian.
Photo Experience Upgrade: $50.00
*Event ticket is not included in the Photo Experience upgrade.

*Each child and parent/guardian must have an event ticket and a Photo Experience upgrade to gain access to the after-show Photo Experience.

*Be sure to bring your camera to capture every moment! Professional cameras are not permitted – those with detachable lenses.

*Photo Experience ticket holders should go to the check-in table prior to the event to pick up Meet & Greet passes, souvenir bags and instructions.
*The Photo Experience will begin shortly after the end of the show and last approximately 30 minutes.
*Our Photo Experience characters come in costume directly off stage. While most children are excited to meet the characters up close, others can feel frightened. If your child is scared or hesitant to meet the characters, we recommend moving to the back of the line in order to give them more time to warm up to the characters.
Improvements Coming To The Dow Event Center Parking Ramp
To improve your entertainment experience, The Dow Event Center is in the process of renovating its parking structure across from venue. These capital improvements include repairing and replacing the elevators and lighting, and performing structural upgrades to the parking ramp.
While this is in progress, parking will be available at the following locations:
Dow Event Center front lot, 303 Johnson
400 lot across from The Dow Event Center, 400 Johnson
Delta College Lot, corner of Jefferson and Johnson, .1 miles, 3 minute walk
Michigan Works, 312 E. Genesee, .3 miles, 6 minute walk
Credit cards are now accepted!