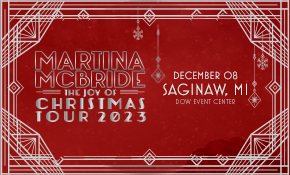 Martina McBride: The Joy of Christmas 2023 Tour

Martina McBride: The Joy of Christmas Tour 2023
Friday, December 8, 2023 at 8:00 p.m.
The Dow Event Center Theater
CLICK HERE FOR VENUE COVID-19 POLICY & PROCEDURES
Multiple Grammy® nominee Martina McBride has sold over 23 million albums to date, which includes 20 Top 10 singles and six #1 hits. Martina McBride has earned more than 15 major music awards, including four wins for Female Vocalist of the Year from the Country Music Association and won three Academy of Country Music for Top Female Vocalist. Martina has been awarded 14 Gold Records. Nine Platinum honors, three Double Platinum Records, and two Triple Platinum Awards. Martina was awarded the Covenant House Beacon of Hope Award and Music Business Association's prestigious 2015 Harry Chapin Memorial Humanitarian Award for her philanthropic efforts on behalf of domestic violence. Martina has released two cookbooks – the first, Around the Table, a full-color illustrated collection of her favorite recipes, hosting tips, practical menu planning advice, and themed décor inspiration. She released her second book, Martina's Kitchen Mix: My Recipe Playlist for Real Life, in October 2018. Most recently, Martina was honored with the Cliffie Stone Icon Award at the ACM Honors event for her impactful contributions to country music.
When Martina isn't in the studio, she focuses her time on charitable causes dear to her heart through her Team Music Is Love charity initiative.
McBride resides in Nashville with her husband, John, and their three daughters. You can keep up with her on Facebook, as well as Twitter and Instagram. For tour dates, please visit her website.
Venue Presale: Thursday, September 21, 2023 at 10:00 a.m. –  10:00 p.m.
Venue Presale tickets will be available online only at Ticketmaster.com with the presale code. To receive the presale code, please sign up for our free email newsletter at https://bit.ly/2LC76Y2 by Wednesday, September 20, 2023 at 11:59 p.m or download our free mobile app and enable push notifications by Thursday, September 21, 2023 at 9:59 a.m. Our mobile app is available to download on the App Store for iOS devices and on Google Play on Android devices. The Venue Presale code will be released via email when the presale begins (September 21 at approximately 10:00 a.m.).
On Sale: Friday, September 22, 2023 at 10:00 a.m.
Tickets on sale to the general public will be available at Ticketmaster.com or in person only at The Dow Event Center Box Office. Our box office is open every Thursday from 10:00 a.m. – 2:00 p.m. and Friday 10:00 a.m. – 5:00 p.m. Please visit internal window #10 to purchase your tickets during that time.
Ticket Prices:  $69.50  |  $79.50  |  $99.50 
*Additional fees may apply when purchased through Ticketmaster. Prices listed are when purchased in person at the Dow Event Center Box Office.
*Prices vary by seat location. Prices are subject to change based on supply and demand.
Improvements Coming To The Dow Event Center Parking Ramp
To improve your entertainment experience, The Dow Event Center is in the process of renovating its parking structure across from venue. These capital improvements include repairing and replacing the elevators and lighting, and performing structural upgrades to the parking ramp.
While this is in progress, parking will be available at the following locations:
Dow Event Center front lot, 303 Johnson
400 Lot across from The Dow Event Center, 400 Johnson
Dow Event Center Parking Ramp
Credit cards are now accepted!