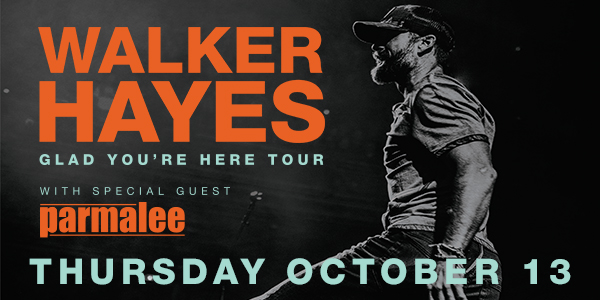 Walker Hayes

Walker Hayes: Glad You're Here Tour with Special Guest Parmalee
Thursday, October 13, 2022 at 7:00 p.m.
The Dow Event Center Arena
Venue Presale: Thursday, April 28, 2022 at 10:00 a.m. – 10:00 p.m.
Venue Presale tickets will be available online only at Ticketmaster.com with the presale code. To receive the presale code, please sign up for our free email newsletter at https://bit.ly/2LC76Y2 or download our free mobile app and enable push notifications by Thursday, April 28 at 9:59 a.m. Our mobile app is available to download on the App Store for IOS devices and on Google Play on Android devices. The Venue Presale code will be released via email when the presale begins (April 28 at approximately 10:00 a.m.).
About the Acts:
Monument Records recording artist, Walker Hayes, is a singer/songwriter originally from Mobile, Alabama. His album Country Stuff The Album came out 1/21, and features new single "AA" and smash hit "Fancy Like."
"Fancy Like" has topped every sales and streaming chart since its release, spending a collective 6 months and counting at the No. 1 spot on the Billboard Country Songs Chart and hitting the top 5 on Billboard's Hot 100 Songs. The irresistible tune was certified RIAA 3X Platinum within a year of release, and the track gave Hayes his first GRAMMY Award nomination as an artist for Best Country Song.
Propelled by the TikTok dance Hayes made to the song with his teenage daughter, "Fancy Like" has been used over half a million times on the app, with that original, homemade video, racking up over 32 million views, and appearing in a national Applebee's ad campaign. Written in response to fans thinking Hayes' life was more lavish than their own, "Fancy Like" connected audiences across genres, and spawned collaborations with Kesha and Carin Leon.
Hayes' newest release, "AA," is everything fans have come to love about his music – unapologetically honest lyrics, instantly catchy hooks, and stories inspired by his own life. Hayes shares, "at the end of the day, we are all just doing the best we can, and what I really mean to say with this song is just that I'm trying to stay the course. I've struggled with alcohol abuse and sometimes I wish I didn't need AA, but I do. I think a lot of people can relate to that. I'm just trying to be the best dad and husband I can be. It's not easy all the time, but my wife smiles a lot and my kids are growing up with more than I had, and that's a really good thing."
Written by Hayes, with Multi-Grammy Award winner Shane McAnally and Luke Laird, and produced by "Fancy Like" collaborator Joe Thibodeau and McAnally, "AA" is one of 13 songs on Country Stuff The Album, which also includes the fast rising pop/country bop "U Gurl."
Hayes' songwriter has led Billboard to praise his "personal, soul-bearing storylines; rolling rhymes; and Macklemore-like cadence," and the Washington Post to write that "Hayes has broken into the mainstream by sounding different."
The proud father of six has performed his music, including the Double-Platinum RIAA certified hit "You Broke Up With Me" from his debut album boom. to national audiences on Good Morning America, CBS Sunday Morning, Late Night with Seth Meyers, The Tonight Show Starring Jimmy Fallon, and The TODAY Show. He kicked off his headlining The Fancy Like Tour in January 2022.
2016 ACM "New Vocal Duo/Group of the Year" nominee Parmalee is one of Country music's most successful acts: the Platinum-selling band of brothers is one of only four groups since 2001 to earn three consecutive Top 10 singles from a debut Country album. Since their debut at Country radio, Parmalee has earned nearly 500 million on-demand streams. Heralded as "Country music's most solid hitmakers" by People, Parmalee has supported Brad Paisley and Jake Owen on national tours while finding time to perform on NBC's TODAY show, The Late Late Show, FOX & Friends All American Summer Concert Series, MLB Central's Studio 21, The Queen Latifah Show, The Kelly Clarkson Show and more. Comprised of brothers Matt and Scott Thomas (lead vocals/guitar and drums, respectively), cousin Barry Knox (bass), and life-long friend Josh McSwain, the North Carolina natives recently returned to the top of the charts with their PLATINUM-certified international No. 1 single with Blanco Brown, "Just the Way." Their romantic new single that "will undoubtedly make the list for wedding songs this year," (Sounds Like Nashville) and was nominated for Best Group/Duo Video of the Year at the 2022 CMT Music Awards, "Take My Name," from their new album, For You is in the Top 20 and climbing on Country radio now. For more information, visit: http://www.parmalee.com.
Mask wearing will be encouraged. Entry requirements are subject to change.
Tickets on sale to the general public will be available at Ticketmaster.com or in person only at The Dow Event Center Box Office Thursdays 10:00 a.m. – 2:00 p.m. and Fridays 10 a.m. – 5 p.m. Please visit internal window #10 at that time.
On Sale: Friday, April 29, 2022 at 10:00 a.m.
Ticket Prices:  $35.00  |  $45.00  |  $55.00 | GA Pit: $55.00
*Additional fees may apply when purchased through Ticketmaster. Prices listed are when purchased in person at the Dow Event Center Box Office.
*Prices vary by seat location. Prices are subject to change based on supply and demand.
Improvements Coming To The Dow Event Center Parking Ramp
To improve your entertainment experience, The Dow Event Center is in the process of renovating its parking structure across from venue. These capital improvements include repairing and replacing the elevators and lighting, and performing structural upgrades to the parking ramp.
While this is in progress, parking will be available at the following locations:
Dow Event Center front lot, 303 Johnson
400 lot across from The Dow Event Center, 400 Johnson
Credit cards are now accepted!