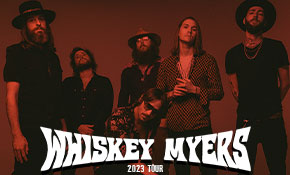 Whiskey Myers with Special Guests Rival Sons & The Weathered Souls

Whiskey Myers with Special Guests Rival Sons and The Weathered Souls
Sunday, February 26, 2023 at 7:00 p.m.
The Dow Event Center Arena
CLICK HERE FOR VENUE COVID-19 POLICY & PROCEDURES
CLICK HERE FOR SHOW PRE-EVENT NOTES
About Whiskey Myers
Genre-bending band Whiskey Myers have played more than 2,500 live shows to ever-increasing crowd sizes since their emergence in 2007. In addition to headlining their own sold-out shows from coast to coast at iconic venues such as Red Rocks Amphitheater and Ryman Auditorium, plus performing at marquee festivals Bonnaroo, Stagecoach, Download and more, the six-piece was also personally selected to open The Rolling Stones' Chicago stadium show in 2019. Their latest self-produced album, Tornillo, available everywhere now via the band's own Wiggy Thump Records, follows their fifth studio album, Whiskey Myers, which debuted at No. 1 on both the Country and Americana/Folk sales charts, at No. 2 on the Rock chart and No. 6 on the all-genre Billboard 200 chart (No. 3 among new releases). In total, Whiskey Myers have sold more than 1.5 million albums and amassed over 2 billion streams while earning four RIAA Gold & Platinum certifications as an independent band. Known for their high-energy live show and unique sound, the band praised by Esquire as "the real damn deal" has also earned sync success with features (and an on-screen appearance) in Paramount's hit show "Yellowstone" as well as Netflix series "What/If," Angelina Jolie film "Those Who Wish Me Dead" and hit CBS series "SEAL Team." USA Today describes their sound as "a riff-heavy blend of Southern rock and gritty country that has earned comparisons to the Allman Brothers Band and Led Zeppelin," with Rolling Stone noting "it's the seminal combination of twang and crunchy rock & roll guitars that hits a perfect sweet spot."
NASHVILLE, Tenn. – Having sold over 298,000-and-counting tickets year to date, with recent milestones including a single-day sellout of their Red Rocks Amphitheatre debut and back-to-back nights at the Ryman Auditorium (with the second show added after night one sold out in just 30 minutes), plus a headlining arena show in front of more than 10,000 fans at Fort Worth's Dickies Arena last month, multi-Platinum independent band Whiskey Myers are ready to continue that momentum into the new year with today's announcement of their Whiskey Myers 2023 Tour.
With 12 dates spanning the country throughout the months of February and March on sale to the general public beginning this Thursday, Nov. 11, via WhiskeyMyers.com, the tour serves as a launching pad for a full year to follow, with major festivals including Carolina Country Music Fest, Hwy 30 Music Fest, Country Jam Colorado and Country Jam USA already on the books, plus more tour dates to be announced in the coming months. Joining the genre-bending band for the run are Giovannie & The Hired Guns, Rival Sons and The Weathered Souls.
"An outlier of alt-country with more thrust, Southern cousin of the Black Keys or spiritual grandchild of Waylon and Willie's Outlaw Country, Whiskey Myers is currently taking a regional movement global," noted POLLSTAR in their recent cover story on the band, adding "Whiskey Myers offers sobering pieces of broken lives that go unseen."
Fans will have a chance to see that authentic musical storytelling live on the upcoming tour, including songs off the band's latest critically acclaimed album, Tornillo, recorded during a 21-day period of isolation at the Sonic Ranch studio just miles from the U.S./Mexico border and praised by American Songwriter for putting Whiskey Myers "in a league of their own with their signature hard-rocking sound on full display" with Nashville Lifestyles declaring, "Southern rock is alive and well on Whiskey Myers' Tornillo – and it comes with a brassy border-town swagger… Equal parts train songs, tenacious energy, and Tabasco… their lawless musicality burns like the sun."
For more information and to purchase tickets to upcoming shows, visit WhiskeyMyers.com and follow on social media @WhiskeyMyers.
Venue Presale: Wednesday, November 9, 2022 at 10:00 a.m. –  11:59 p.m.
Venue Presale tickets will be available online only at Ticketmaster.com with the presale code. To receive the presale code, please sign up for our free email newsletter at https://bit.ly/2LC76Y2 by Tuesday, November 8, 2022 at 11:59 p.m or download our free mobile app and enable push notifications by Wednesday, November 9, 2022 at 9:59 a.m. Our mobile app is available to download on the App Store for iOS devices and on Google Play on Android devices. The Venue Presale code will be released via email when the presale begins (November 9th at approximately 10:00 a.m.).
On Sale: Thursday, November 10, 2022 at 10:00 a.m.
Tickets on sale to the general public will be available at Ticketmaster.com or in person only at The Dow Event Center Box Office. Our box office is open every Thursday from 10:00 a.m. – 2:00 p.m. and Friday 10:00 a.m. – 5:00 p.m. Please visit internal window #10 to purchase your tickets during that time.
Ticket Prices:  $43.00  |  $63.00  |  $83.00
*Additional fees may apply when purchased through Ticketmaster. Prices listed are when purchased in person at the Dow Event Center Box Office.
*Prices vary by seat location. Prices are subject to change based on supply and demand.
Improvements Coming To The Dow Event Center Parking Ramp
To improve your entertainment experience, The Dow Event Center is in the process of renovating its parking structure across from venue. These capital improvements include repairing and replacing the elevators and lighting, and performing structural upgrades to the parking ramp.
While this is in progress, parking will be available at the following locations:
Dow Event Center front lot, 303 Johnson
400 Lot across from The Dow Event Center, 400 Johnson
Dow Event Center Parking Ramp
Credit cards are now accepted!