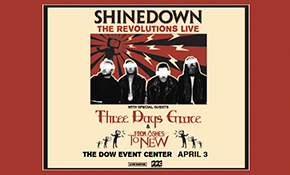 Shinedown with Three Days Grace & From Ashes to New

Shinedown with Three Days Grace & From Ashes to New: The Revolutions Live Tour
Monday, April 3 at 7:00 p.m.
The Dow Event Center Arena
CLICK HERE FOR SHINEDOWN PRE-EVENT NOTES
Early in 2007, producer Rob Cavallo asked Shinedown frontman Brent Smith about his goals for the band's new album. Smith didn't hesitate.
"I said, 'You know what — when I'm dead and gone, when everybody in this band has passed or what have you, I want the world to remember this as a record that needed to be made, and that there was a reason for it,' " Smith says. "That was the motivation behind this album."
"And part of the reason it took so long to make!"
Welcome then to THE SOUND OF MADNESS, Shinedown's third album — and the Florida rockers' boldest effort to date. Like its two predecessors, 2003's Platinum LEAVE A WHISPER and 2005's Gold US AND THEM, THE SOUND OF MADNESS offers a brave and unsparing look into the soul and psyche amidst a fierce musical attack that, even in its quieter moments, vibrate with the passion, energy and focus of a band with high-minded ideals and limitless ambitions.
Smith and company began the recording process for THE SOUND OF MADNESS with the formidable task of following up two massively successful albums that yielded a staggering seven consecutive Top five rock and alternative radio hits that included "Fly From the Inside," "45," the chart topping "Save Me," and a cover of Lynyrd Skynyrd's "Simple Man," along with a reputation as a hot live band with an insatiable appetite for the road. However, after one listen, it's clear that the band didn't shrink from the task. Where THE SOUND OF MADNESS differs most is in its growth; it's the product of a group that has developed an even clearer vision for how it wanted to impact an audience.
"Lyrically, these songs are the most blunt that I've ever written," says Smith, who formed Shinedown with drummer Barry Kerch in 2001 in Jacksonville, Fla. "I feel that on this record I wrote what a lot of people want to say, but they just don't know how to say it — not that I should tell anyone how to live their lives, but I've had these experiences and these thoughts that are in my head. And I can't believe I'm the only one who feels the way I do. So I just tried to express that in the most artistic and the most honest way I possibly could."
On THE SOUND OF MADNESS, Smith and Shinedown express those thoughts and ideas in ways they never have before. The group's hard rock muscles flex on songs such as the first single, "Devour," "Cry For Help," "Sin With a Grin" and the title track. But the likes of "The Crow and the Butterfly," "Breaking Inside" and their latest single "Second Chance" incorporate more sophisticated, emotional dynamics (enhanced by a 20-piece string section), while Smith counts "If You Only Knew" as his first straight-up love song.
"A long time ago I said, 'I'll never write a love song. I'm not that guy,' "Smith recalls with a laugh. "I just never had a reason to write a love song before. But this song was written the day that I found out that I was going to be a father. My son has given me a whole different perspective on things, especially love."
THE SOUND OF MADNESS also contains Smith's first-ever political song "Devour," which he says was inspired by Shinedown's visits to troops in Iraq and his feelings about the end of George W. Bush's presidency.
"I won't lie; I got really angry," Smith explains about the first single. "This is my statement to him; 'This is the end of your presidency, and this is what you have to show for it' — Not that everything he did was bad or wrong. I don't want to get too political, because I'm not a political person. But after coming back from Iraq, I just had to write that song and get it out of my system."
Elsewhere on THE SOUND OF MADNESS, listeners will find Shinedown waxing autobiographically ("Second Chance" is about Smith leaving his native Knoxville, Tenn., to pursue a career in rock 'n' roll; "What a Shame" is an elegy to a beloved late uncle) but also crafting insightful observations gleaned from the hundreds of shows and millions of road miles the band has logged.
"In the seven years of this thing called Shinedown," Smith says, "I've seen a lot of different things – what we've all gone through on the road, things in our personal lives or witnessed firsthand through the fans that we've made and the relationships we've built with our audience. I think the biggest thing was I didn't want to sugarcoat the way life can be sometimes. This is my viewpoint. This is my view of every day life."
Kerch, meanwhile, says THE SOUND OF MADNESS succeeds most in putting some sonic power behind the power of Smith's expression.
"We wanted to come out of the gate crushing," the drummer explains. "We really wanted to make a statement with this record and make it bigger than life — a big rock album that made a statement that, 'Alright, we're back. This is our third record, and this is what we're about."
By the time Shinedown first met with producer Rob Cavallo — whose own Grammy award winning, multi-platinum track record includes work with Green Day, My Chemical Romance, the Goo Goo Dolls and Kid Rock — the frontman had a number of songs already together and further dazzled the producer by improvising a new composition during their discussion.
"I was just taken with (Smith)," Cavallo says. "He was really just on fire to do well. He's a guy driven to win. He wants to make the best record he can make and spent a lot of time writing …making sure it all mattered."
Cavallo, meanwhile, entered THE SOUND OF MADNESS with his own agenda for Shinedown's next step.
"I thought they definitely had a greater potential than the success they'd already achieved," he explains. There's no reason a guy with that voice and intensity shouldn't be able to go all the way. We decided to make sure that the songs had that potential."
Smith heard the message loud and clear. He left the first meeting with Cavallo and returned with nearly 60 songs by the fall, when Shinedown entered the studio in Los Angeles. The group wound up recording 15, including some — such as "Cry For Help" — that were written in the studio during the recording process.
All the while, however, Smith says that Shinedown "wanted it loud and wanted it big and heavy and grandiose. For the heavy songs, we wanted it as heavy as it could be, but using different kinds of styles with a lot of different guitar tones." Incorporating synthesizers and the aforementioned strings, Smith notes that, "we used a lot of really unique sounds and different variations underneath the music that you wouldn't necessarily know were there, but, if they were gone, you'd miss them."
Kerch says Cavallo's role in helping attain that layered sound cannot be understated. "He brought to the table not only knowledge of music in general but a lot of patience and a real comfortable environment," Kerch recalls. "He would sit on the couch and we'd be playing a take and he'd pop up and go, 'Oh fuck! This is what we have to do!' and come out and literally show us. He was so energetic and made everybody want to do better."
That bigger sound on the album is mirrored in the new lineup of Shinedown, a revamped edition of the band that, along with drummer Kerch (or 'the almighty Barry Kerch' as Smith likes to say), includes Eric Bass on bass and former touring guitarist Zach Myers as a permanent fixture.
"All of a sudden it started growing into this other thing," Smith says. "These guys are brilliant, brilliant players. It's a reinvention, and it's stronger."
Smith plans to take keep this "new reincarnation" of Shinedown on the road for quite awhile, too, making sure THE SOUND OF MADNESS is heard worldwide. A justifiable pride in the album as well as a growing international fan base for the band will lead to an even further evolution in which the record that "needed" to be made will similarly need to be heard in a live setting.
"I sometimes look at Shinedown as an entity unto itself," Smith says. "It keeps evolving all the time, like it actually has a heartbeat. It's not a machine; there's actually blood flowing through it. From the time we came up with the name, it's felt like it's conducting us and flowing through us. It's weird — but it's pretty wonderful, too."
Life ebbs and flows in bursts of energy. Moments of calm give way to chaos only to eventually slip back into quiet. Between these peaks and valleys, we grow, change, and progress. Three Days Grace harness this ebb and flow in their music. The iHeart Radio and Billboard award-winning multiplatinum record-breaking Ontario, Canada quartet—Matt Walst [lead vocals], Barry Stock [lead guitar], Brad Walst [bass], and Neil Sanderson [drums, percussion, keyboards, programming]—balance moments of extreme emotion on an axis of pummeling hard rock anthems and pensive balladry. Along the way, they've amassed billions of streams and millions of album sales, sold out arenas on multiple continents, and reached unprecedented heights, earning a staggering 17 total #1 entries on the Mediabase Active Rock Chart and sharing the record for "Most #1 singles on the Billboard Mainstream Rock Songs Chart" with 16. However, the band ascend to another stratosphere on their 2022 seventh full-length offering, Explosions [RCA Records].
"We are born into a world of explosions, and they're always present," observes Neil. "We all bottle feelings of anger inside and act like they're not there. Sometimes, you just want to express yourself and be creative. You try to be who you are, but the world hinders it. So, do you explode? It's not always the right answer. Do you find something to take the edge off? We all do to some degree, because the other option is exploding. Not all explosions are bad; some are beautiful. If you're a dad, your child goes out into the world and becomes a person. To me, that's explosive."
Throughout 2020 and 2021, Three Days Grace carefully assembled what would become Explosions in Canada. The band members initially convened via ZOOM. As restrictions eased, they tracked at Jukasa Studios and in Neil's home studio. Matt would often hop on a snowmobile and cruise backwoods trails from his place to work with Neil. Meanwhile, producer Howard Benson [My Chemical Romance, Adam Lambert, Santana] beamed into the sessions on a life-size screen. For the first time, they also enlisted the mixing talents of Dan Lancaster (Bring Me The Horizon, Muse) adding another dimension.
"It felt like everyone was in the room," recalls Neil. "We got a hell of a lot done. There were fewer smoke breaks, and we didn't have to go for sushi every two hours," he laughs. "Change brought out another facet of Three Days Grace."
"It was definitely a different kind of record," agrees Barry. "We had more time to experiment and expand the sound. It was a benefit to be able to try new flavors we haven't tried before."
"Usually, there's a deadline to go on tour," adds Matt. "We didn't have to rush. The heavy tunes stand out, but there's a lot of emotion. There's something for everybody."
Three Days Grace introduced the record with the opener "So Called Life." Airy electronics underscore tightly wound verses before fits of distortion buoy an instantly unshakable refrain as Matt pleads, "Give me something to take the edge off, something to kick the night off, something to keep my mind off this so called life." It set the tone for this chapter with a bang, marking the aforementioned latest #1 for the group.
"Everybody has one thing they do to take the edge off," Matt goes on. "We all need something, or we'll go crazy. Whether it's going to the gym, taking a drink, or having a smoke, we find peace somehow."
"Music is therapy for us, and it's why we've been doing it for so long," says Brad. " 'So Called Life' is a party song. You're getting rid of those frustrations with whatever works for you."
A siren swell and piano punctuate "Neurotic (Ft Lukas Rossi)." The track originated as a collaboration between Neil and Lukas Rossi [Rockstar Supernova] for the side project King City. Now, Matt and Lukas duet on this bludgeoning banger teeming with nervous energy.
"We added a Three Days Grace spin to it," Matt reveals. "Lukas has a great voice, and we match up pretty well."
"Everything is about tension and release," adds Neil. "It defines the record."
Guitar creaks underneath the airy string-laden soundscape of "Lifetime." As the beat trudges forward, Matt's voice cracks with raw pain, "Who do I talk to when I want to talk to you? I thought I'd have you for a lifetime."
"Loss is the biggest and most universal thing in the human experience," Neil elaborates. "Nothing is forever. Humanity deals with loss, and this song encapsulates it."
"My girlfriend lost her dad, and I watched her get the call," Matt remembers. "We wrote the song right after it happened. You think you'll have everyone you love forever. You need to hang in there when other people go away, but it's easier said than done."
Then, there's "Redemption." It illuminates the masterful dynamics at the heart of the album, teetering  between acoustic guitar and a soaring chorus. Elsewhere, "Champion" hinges on a stadium-size refrain inspired by Michael Jordan's The Last Dance. Everything culminates on the title track "Explosions." It allows for a catchy catharsis at the edge of existence as Matt declares, "There's no reason not to have a little fun, one more trip around the sun."
"It's a lullaby to soothe another person amidst chaos," states Neil. "I've always pictured it as a message to console someone terrified by all of the fireworks going on. Recognize explosions are normal, and you don't need to freak out."
"It's a big idea," Brad remarks. "We all have our own emotions and inner struggles. It's something we connect over."
"It was the first song I sang to my son on the day he was born," smiles Matt.
Explosions represents a natural step for Three Days Grace. In the wake of 2018's Outsider, they picked up "Rock Artist of the Year" at the iHeartRadio Music Awards and "Rock Songwriters of the Year" for the single "The Mountain" at the SOCAN Awards. The album garnered nods for "Album of the Year" and "Rock Album of the Year" at the 2019 Juno Awards. Three years prior, 2015's Human housed the gold-selling "I Am Machine" and "Painkiller." Achieving dozens of gold and platinum certifications worldwide, their catalog comprises the double-platinum Three Days Grace [2003], triple-platinum One-X [2006], gold-certified Life Starts Now [2009], and epic Transit of Venus [2012]. As "one of the most-streamed rock bands in the world," they impressively attract over 8 million monthly listeners on Spotify. Speaking to quietly inescapable presence, they appeared on the NBA2K19 Soundtrack curated by Travis Scott, while Jeris Johnson served up a viral cover of "Never Too Late" and the late Lil Peep and Lil Tracy have sampled "The Real You." The band also collaborated with Young Thug on Bighead's "Emotions." Thus far, their number one smashes span "Chalk Outline," "The High Road," "Misery Loves My Company," "World So Cold," "Good Life," "Break," "Never Too Late," "Animal I Have Become," "Pain," "Just Like You," and "Home."
In the end, Explosions signals another era for Three Days Grace.
"There's a lot of positivity in this record," Barry notes. "It's about living like there's no tomorrow and making the most of every moment. Hopefully, you feel that."
"This band represents a huge part of my purpose and identity," Neil leaves off. "Art helps explain our lives. If fans feel like the songs explain their lives, there's nothing better."
"We're from a small town of 1,300," Matt adds. "We can't believe how far we've come, and it's exciting that there's a long way to go."
Lancaster, Pennsylvania is one of a hundred similar American towns; in fact, there are places just like it all over the world: post-industrial but still largely working class, and generally offering bleak prospects for the kids who grow up there. Suburban boredom, broken families, substance abuse, limited opportunity – this is an environment in which authentic, compelling creativity can thrive, if it's accompanied by a burning desire, unstoppable drive, and complete lack of any backup plan.  There have always been powerful voices that rise above the din of mediocrity and monotony. The voice of From Ashes to New founder and frontman Matt Brandyberry is one of those that is forcing itself to be heard.
Matt's lifelong interest in music progressed along a wide-ranging path: he was ardent hip-hop fan who wrote rhymes while in junior high, then learned piano and guitar. He pursued music with a passion, ignoring warnings from naysayers around him who shook their fingers in disapproval, asserting that he was doomed to fail and would never amount to anything.
His early musical efforts were straight-up rap, and he couldn't get anything happening with it. "People would say, 'You aren't a rapper. You are white. Just quit. Just get a real job.' And I eventually thought I would be that regular 9 to 5 guy."
To make matters worse, Matt was making bad choices. "Most of what I have done has been a failure," he admits with an unsettling candor. "Things I fell into. Things I believed. I was pretty damn good at baseball, but I made bad choices. I ruined it. I fell into a bad crowd, getting in trouble, and partying too much. I was doing things I shouldn't have been doing instead of following what could have been a career choice."
Matt found a steady job as a cable TV installer, and had to relegate writing and performing to his off hours and weekends. Rap gave way to joining local rock bands, but his creative contributions ended up being frustratingly limited.
He was making good money doing the 9 to 5, but he didn't have an outlet for the powerful music he was starting to hear in his head, and the voices of people who discouraged him grew louder and almost caused Matt to lose his focus.
This roadblock seemed insurmountable. Matt realized that he himself possessed the power to overcome the negativity and spitefulness he felt around him. Confidence was something that was totally under his control. An internal voice told him to press forward with his own creativity.
By pushing past the negativity with From Ashes to New, a rock band with a point of view, Matt found his voice, performing powerful songs that speak of redemption, liberation, and personal salvation.
Matt used money from a workers compensation settlement to begin the FATN journey. At the time, it seemed like yet another questionable choice.  Investing his life savings into what amounted to an underground studio-only project, Matt did so in order to generate the quality recordings which eventually got the band some attention.
Negativity threatened to derail From Ashes To New's dreams once again when several band members jumped ship after the band signed to Better Noise Records. But this became another opportunity, as the band evolved a tighter unit, most recently adding guitarist Lance Dowdle, formerly of hard rock band Emphatic, who adds his own passion and energy. "The current lineup reflects the true spirit of the band," Matt says, "and we can't wait to play for fans all over the world"
"Through It All," the band's breakthrough first single, has launched their sound onto the radio and created multiple touring opportunities. Matt recounts, "There's always someone involved in our lives that in the end seems to change us. A friend, a family member, a significant other, sometimes we're left to wonder if it was for better or for worse. Often times we don't know what we have until it is gone."
"Lost And Alone is a song about feeling lost and hopeless in today's society. No matter how many times it feels like we have something to hold onto, that something always seems to find a way to escape us. It paints the picture of the bitter reality that we have to take matters into our own hands and not rely on the world to save us," Matt explains.
Ultimately, From Ashes to New's message is true to life, raw, and genuine. Their music is a testament to positive inspiration for the people of the world that they, too, can take risks and not settle into an expected life of mediocrity.
"We are only regular if we make ourselves regular. We are what we tell ourselves we are," Matt says. "Some of our fans tell us they feel things are hopeless and I tell them, 'You have to believe in yourself before anyone else can.'"
Venue Presale: Thursday, January 26, 2023 at 10:00 a.m. – 10:00 p.m.
Venue Presale tickets will be available online only at Ticketmaster.com with the presale code. To receive the presale code, please sign up for our free email newsletter at https://bit.ly/2LC76Y2 or download our free mobile app and enable push notifications by Thursday, January 26, 2023 at 9:59 a.m. Our mobile app is available to download on the App Store for IOS devices and on Google Play on Android devices. The Venue Presale code will be released via email when the presale begins (January 26 at approximately 10:00 a.m.).
On Sale: Friday, January 27, 2023 at 10:00 a.m.
Tickets on sale to the general public will be available at Ticketmaster.com or in person only at The Dow Event Center Box Office. Our box office is open every Thursday from 10:00 a.m. – 2:00 p.m. and Friday 10:00 a.m. – 5:00 p.m. Please visit internal window #10 to purchase your tickets during that time.
Ticket Prices: $59.95 | $69.95 | $89.95
*Additional fees may apply when purchased online. Prices listed are when purchased in person at the Dow Event Center Box Office.
*Prices vary by seat location. Prices are subject to change based on supply and demand.
Improvements Coming To The Dow Event Center Parking Ramp
To improve your entertainment experience, The Dow Event Center is in the process of renovating its parking structure across from venue. These capital improvements include repairing and replacing the elevators and lighting, and performing structural upgrades to the parking ramp.
While this is in progress, parking will be available at the following locations:
Dow Event Center front lot, 303 Johnson
400 lot across from The Dow Event Center, 400 Johnson
Dow Event Center Parking Ramp
Credit cards are now accepted!